Peg Perego Book for Two Double Stroller Review (VIDEO)
Double strollers can be tricky to choose. You want one that is easy to push, can accommodate both kids (whether you have twins or a baby and a toddler) and won't break your back when you try to haul it into your car. There are so many on the market that sometimes you don't know where to turn. Do you do side-by-side or tandem? What about the wheels? Are reversible seats a must-have for you? Or is the basket size one of your deal breakers if it isn't up to your expectations? What about the fold? Umbrella or all-terrain? So many questions!
Not to worry…that is why Baby Gizmo is here. We aren't just one of the most popular baby gear sites in the world because we are cute and we share funny memes. Nope, we show you the products. We dig down deep and do the work for YOU! We wrote a book on it! Yep, the Baby Gizmo Buying Guide teaches moms how to buy the best baby gear for them! We have a YouTube library full of more than a thousand baby gear videos showing you the ins and outs everything you need for baby and helping you make the best choice for your budget and lifestyle.
Okay, enough about us, let's talk about strollers. Actually, let's talk about double strollers. If you are confused on what to look for in a double stroller, we have a full tutorial video that may help – "How to Buy a Double Stroller". This video explains the different types and highlight various things that you need to think about when shopping for a double buggy.
If you are looking for a luxury, side-by-side stroller with many of the popular bells and whistles, we have a new one to show you today.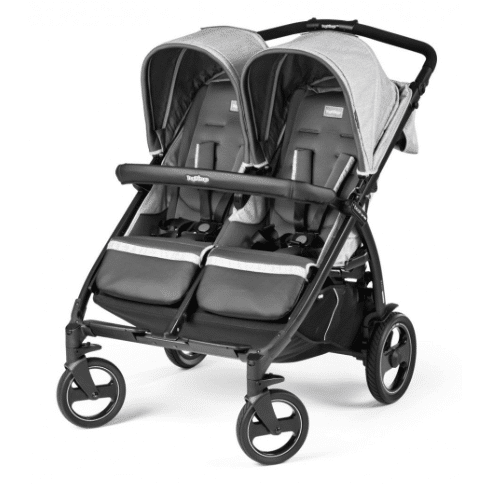 The Peg Perego Book for Two is a high-end stroller that is great for two kids (especially twins because it takes TWO car seats!) , easy to push and has many of the must-have features we look for in a double stroller. It comes in 4 different colors and retails for $649.99. Yep, it isn't cheap but it's on par with other luxury double strollers.
Take a look as I give you the ins and outs on the Peg Perego Book for Two stroller in today's Baby Gizmo video.
Don't forget to subscribe for new videos everyday on the Baby Gizmo YouTube Channel – http://bit.ly/sub2babygizmo
SHOP the Peg Perego Book for Two on Amazon.com
Thank you for making us the #1 Baby Gear Channel on YouTube!
Follow Baby Gizmo on:
Facebook: http://www.facebook.com/babygizmo
Pinterest: http://www.pinterest.com/babygizmo
Twitter: http://www.twitter.com/babygizmo
Instagram: http://www.instagram.com/babygizmo