Peg Perego John Deere Front Loader Review (VIDEO)
[onescreen item="5141905″]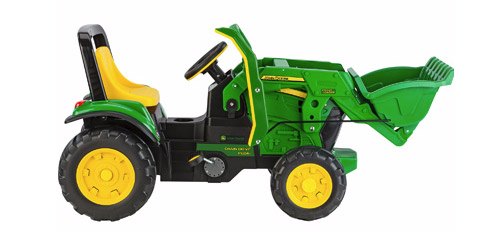 Most people look at this chain and pedal ride-on and just think about John Deere, right?!? They forget that it is actually made by one of our favorite baby brands, Peg Perego. As we continue our holiday toy video series, we are taking an up close and personal look at the Peg Perego John Deere Front Loader today.
Kids love to dig. Kids love to ride. This outdoor ride-on combines both. While this tractor isn't for all kids (definitely not a city ride-on!), it was designed for ages 3-7. With a real working front scoop, kids will be scooping, riding and dumping all over the yard. You just have to hope that they spare your flowers! 🙂
There are things that we really like about this tractor, and a few things you need to know, so the best way is out of the mouth of babes. Take a peek at our Baby Gizmo Video Review as our Lil' Testers show you everything you need to know about this ride-on.
SHOP the John Deere Front Loader HERE
*Disclosure: We were sent a John Deere Front Loader for review consideration. As always, all thoughts, opinions and statements are our own.