Peg Perego Polaris Sportsman 850 Review (VIDEO)
We are back to holiday toy shopping! Yep, holiday toy talk in September is totally normal here at Baby Gizmo. Today we are talking ride-on vehicles!
While our 3 to 6-year-olds love the traditional (outside) battery-powered vehicles, they usually outgrow them long before they want to stop riding them. Our 5 to 10-year-olds drop into a gap that manufacturers many times overlook when designing ride-on vehicles.
Our toddlers have the small, push-with-your-feet ride-ons, our young kids can enjoy the 12 volt battery ride-ons and our tweens and teenagers can explore with the go-cart and gas-powered vehicles but it's hard to find something for the "big kids". You know, the 5 to 10-year-olds who still want to play!
Luckily, Peg Perego didn't forget about our "big kids", yet sometimes we forget that Peg Perego makes great products for more than just babies! This is one of them! Today we are taking an up close and personal look at the Peg Perego Polaris Sportsman 850. This is an all-terrain vehicle that your bigger kids are going to love!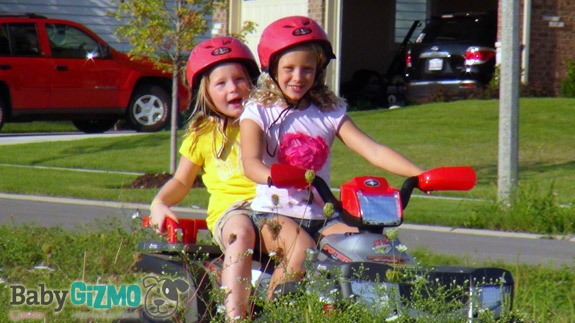 This high performance vehicle is no joke, and with speeds up to 7 mph, a helmet is a must! Another must is keeping the littles (and beginners!) from riding it in high speed. The vehicle can be locked into 3 1/2 mph for beginners and can be switched (with a screwdriver) to 7 mph for the more experienced riders.
While other ride-ons for littler kids sport 12-volt batteries, the Polaris Sportsman 850 steps it up a notch with a 24-volt rechargeable battery that gives it power to charge over all-terrain such as grass, dirt and hard surfaces.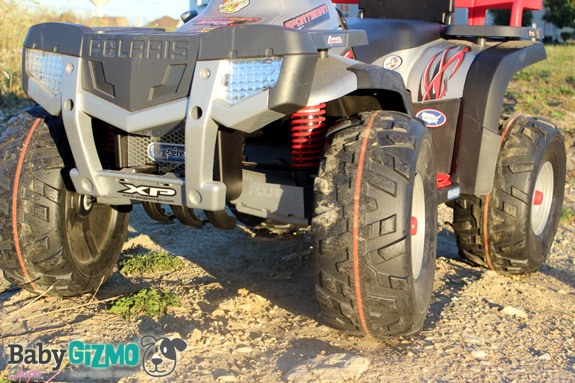 We love the super traction wheels with Red Line Nitrile traction bands that was designed to perform like real ATV tires. Riders can also easily switch it into reverse mode with a handy gear shift next to the handlebars.
Our 8-year-old reviewers tested the Polaris Sportsman 850 on all types of dirt, hills, grass, weeds and gravel and found that the 4-wheel shock-absorbing suspension performed well and the traction bands really gripped the ground.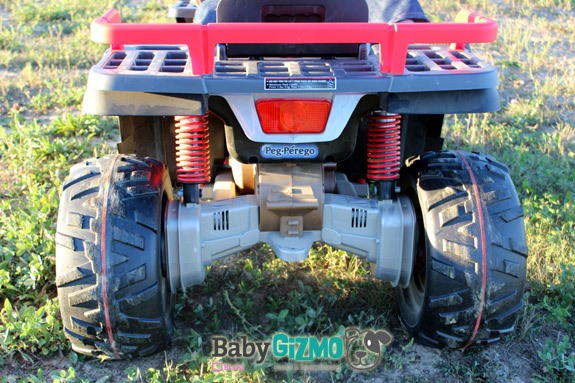 The vehicle accommodates up to 2 passengers (with a combined weight capacity of 150 lbs) and was designed for kids ages 5-10.
The vehicle is big and will take up room in the garage and expensive (expect to drop $600 buckeroos on this one!) but kids will absolutely love it! We have found that the toys that are played with the MOST at our house over the years have always been the battery-powered cars outside. We know it is a lot of cash to drop on a "toy", but honestly, we have had a battery-powered car (one for the littles!) for 5 years and the kids still play with it every time they are outside.
Our only challenge with this new bigger version from Peg Perego is keeping the smaller neighborhood kids off of it. It just looks like too much fun to them, yet it's definitely too fast for any child under 5 years old.
The Peg Perego Polaris Sportsman 850 retails for $599 and is available for purchase from Amazon.com, as well as, other retailers.
*Disclosure: Peg Perego sent us a Polaris Sportsman 850 for review consideration. As always, all our thoughts, opinions and statements are our own!