Most people recognize Petunia Pickle Bottom diaper bags for their Boxy Backpack style. Many moms love that one because they can be hands-free, thanks to its sturdy backpack straps. But did you know PPB sells another backpack style diaper bag? I introduce: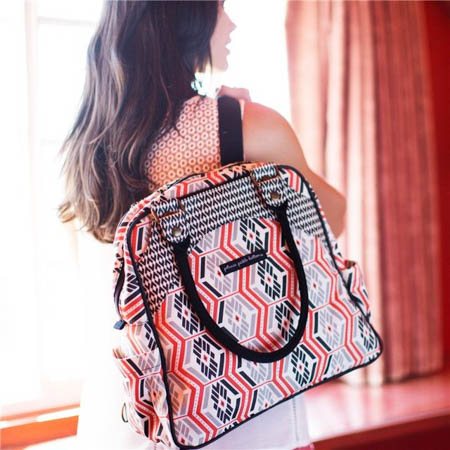 The Sashay Satchel!
This bag not only has the comfy backpack straps but it offers another carrying option with its padded tote handles. Use one or the other—or both!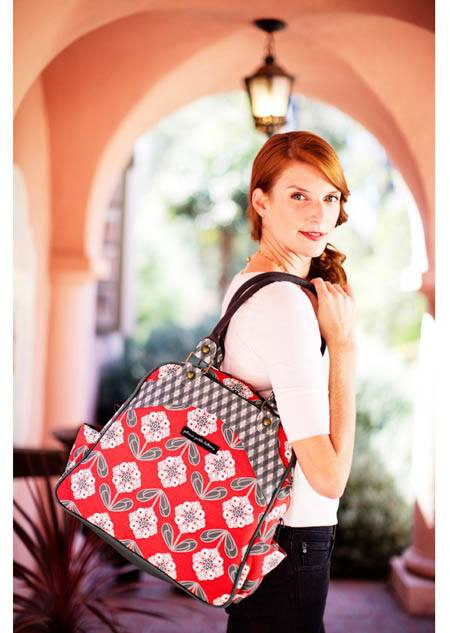 This bag features a total of 10 pockets for organization, a light, water-resistant inside lining, and great durability! It's the perfect size for all my needs for my two children (toddler and 6 month old baby) and even when I have it jammed packed, it's not too heavy! The backpack straps, though not padded, are still very comfortable and don't cut into my shoulders or neck. The shape of the bag distributes the weight of what's inside very evenly over your back so the straps don't hurt you.
My favorite features of this bag, other than the fact that you can tuck away the backpack straps if needed, is how wide the main pocket opens, and the key fob located right inside the main pocket. No more digging around for lost keys as I try to keep my toddler from running in front of a car in the parking lot!
My only complaint is that not ALL of the prints have a light interior lining. My print does, but some other cute ones have black interiors. So watch out for that if the infamous "black hole issue" is a deal-breaker for you.
Check out our video for other features of this bag and get a closer look at why I love my PPB Sashay Satchel!
Like what you see? The Sashay Satchel runs from $139-$175, depending on which print you choose. You can shop the Sashay Satchel HERE!