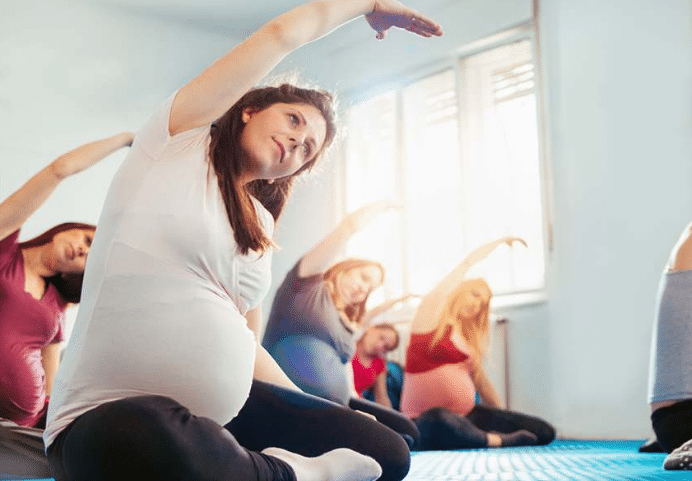 We've all had it drummed into our brains by now that the appropriate weight gain for women starting pregnancy in a healthy weight range is 25 to 35 pounds, and that pregnancy is no excuse to actually "eat for two." And yet, so many of us gain more than we should—sometimes more than is healthy for our babies or ourselves.
During my first pregnancy, I gained 36 pounds. I worked out with a trainer, went to the gym, and even sought the advice of a nutritionist on a regular basis. I remember crying in her office when I had gained two pounds in a week.
Chalk it up to pregnancy hormones, perhaps, but I definitely took my weight a little too seriously back then—which is not to say that I didn't indulge in all kinds of deliciousness while I was pregnant (like Starbucks pumpkin spice lattes and pumpkin donuts… yum), just that I punished myself for it. Ugh. It took me a full year, but I managed to lose all of the weight I had gained (plus an additional pound!)… And then I got pregnant again.
During my second pregnancy, I was home with a one-year-old instead of working full-time in an office, as I had been during my first pregnancy. I remember either being in constant motion while chasing after a very active toddler, or passing out from exhaustion. I tried to eat healthily, but I also did my fair share of noshing on my son's leftovers, a common pitfall of having a toddler. I ended up gaining 35 pounds in that pregnancy. And again, courtesy of breastfeeding and a return to the gym as well as lots of time outside with my sons, I lost the weight.
And here I am at 26 weeks pregnant, having gained a total of 17 pounds thus far. As of my last ultrasound two weeks ago, the baby was measuring just shy of two pounds and was in the 91st percentile, something I feel pretty good about, given that I've been battling high blood pressure throughout this pregnancy—which can restrict intrauterine growth.
My belly is measuring a bit big, but that seems to be where I'm carrying the most weight (I love surprising people when they see me from behind at first and don't realize I'm pregnant until I turn around). And with around 14 weeks to go, if I gain around a pound a week until the end (with leeway for weeks where I gain two), I should still end up right within the target range. Of course, we also have a new au pair from France living with us—one who loves to bake pastries (she tried making croissants from scratch last night for the first time!) and cook with cream and butter… (But I'm not complaining about having another person around who's willing to cook!)
As I tried to do during my last two pregnancies, I'm attempting to stay active this time around. I seem to have completely slacked off during the month of August and most of September, as I realized when I finally returned to the gym this past Monday.
When I got on the elliptical trainer and went to enter my weight, it has a default of 150 and you have to scroll up to down to get to whatever number you want to enter; I was used to scrolling down—but I realized belatedly that I needed to scroll UP. Um, yeah, it had been a while. I've been trying to walk back and forth to my sons' schools as well—kindergarten is about a mile from our house, and I made that trip four times yesterday. I've also recently hit prenatal yoga and Pilates classes.
Sadly, all of this exercise is also coming at a time when my three-year-old—my favorite nap buddy—is giving up his afternoon nap, leaving me even more exhausted. But I'm going to keep chugging along—I know I'll ultimately feel better about getting bigger and bigger if I'm doing it in a healthy way, and I'll be able to lose the baby weight faster on the other side, if I stay active now.
Did you exercise during pregnancy? If so, what were your favorite ways to get a workout?