Preparing for Kindergarten with Brain Quest Alphabet
It is true, my baby is headed to kindergarten in the fall. *sniff sniff*
This is a big deal and through all the tears that I'm shedding in preparation for this big day, I'm trying to get him ready.
Do I want him to be ready to leave mama and go off to the big school all day long? Nope.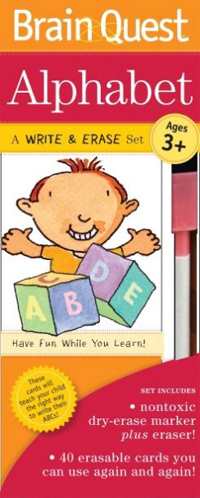 Do I want him to stay home with me forever! Yep.
Do I get a lot of work done with him at home during the day? Nope.
Is the kindergarten milestone going to be good for both of us? Yep.
My little guy has been going to preschool for two years now so I'm confident he is beyond ready, but a little extra push at the end doesn't hurt, right? Well, since we've been traveling a bit lately (which means preschool has been missed quite a few times), I found a great set of Alphabet Write & Erase cards at the teacher store that is perfect to keep on top of his letter recognition and writing skills.
This set is amazing because it features an attached pack of 40 large, write-on, wipe-off cards plus a dry-erase pen and it fits perfect in our carry-on luggage for all our trips. Plus, it doesn't hurt that my son LOVES to do this "homework."
If you have a little one that is in preschool or headed to kindergarten soon, you will definitely want to take a peek at our Baby Gizmo Video Review of this educational tool.
Buy the Brain Quest Write and Erase Alphabet Set