Prince Lionheart has taken playmats to a whole new level with 30 ft of play space on the reversible Playmat Plus. This water-resistant (wipes clean) mat is non-toxic and has a polyethylene outer surface over a EPE foam core. This was designed to grow with your child – cushioning babies for tummy time, entertaining toddlers and encouraging young kids to explore and learn through play.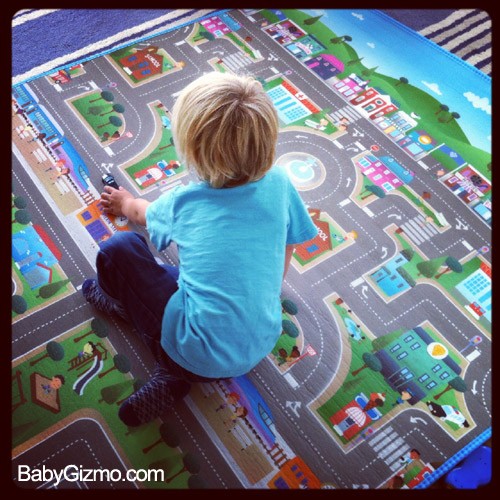 The mat measures 5.8′ by 5′ making it large enough for multiple kids to play. There are three scene options: city/farm, city/ocean and city/ABC. Our little testers absolutely loved the city side so it is no wonder they included the city on each option. With tons of roads and buildings to explore with cars, trucks or even dolls, the city should be a hit with most kids.
Unlike the typical play rug that may be hard to clean with the usual kid spill, this mat is easy-peasy to clean up by just wiping it.
PLAYMAT CONCERNS
There are only two concerns we have:
1) When you take the mat out of the travel/storage case, it takes days to unroll. We found that it takes a minimum of 5 days of laying flat for the corners to uncurl and not need other toys, shoes or heavy things to hold it down. Just as you would think, once you store it away again, the unrolling process starts all over again.
2) You have to be careful with the top polyethylene layer as a child can rip or snag it with a sharp toy. After only two days of my 4 year old playing with the mat, he grabbed a small metal toy tractor that had an edge on the bottom and got a little excited with his car play and snagged the mat. Since my boys play with this mat ALL THE TIME with their cars, we weren't too broken up over the little tear, so we put a piece of scotch tape over it and try to ignore it so that the kids don't pick at it.
For a mat that retails for $50, we'd love to see the next version with a tougher covering that can't tear – or at least tear easily. If they changed that, it would be near perfect! To see it up close and personal along with our slight concerns, take a peek at our Baby Gizmo Video Review.