Coffee: A parent's legal drug.
Have you ever truly tasted coffee? Not a Starbucks cup, I mean a delicious cup of smooth, French pressed coffee? If not, you really should. It tastes like a little cup of heaven in amongst the "Mama! Mama! Mamaaaaaaa!!" madness.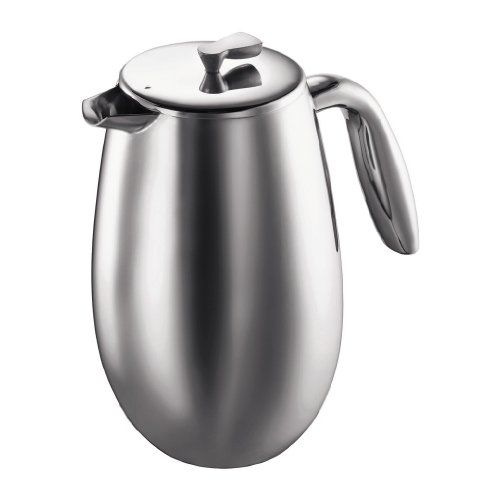 I recently purchased the Bodum Columbia 8 Cup Stainless Steel Thermal Press Pot and I can honestly say, the coffee is incredible. None of that fake stuff, this is the real deal! While reading Amazon reviews researching, I came across this stainless steel French Press. I was concerned about getting a glass one because 1) I didn't trust myself/my husband not to break it, and 2) I didn't want the coffee to go cold quickly. This was the perfect answer: being stainless steel, Bodum claims that it keeps the coffee warm for 2 hours, and as it contains 8 European cup sizes (32 ounces, so about four regular cups of coffee), I knew it would be enough for us on our crazy weekend mornings.
At $78.75, it wasn't cheap, but we decided to go for it because, let's face it- sanity is priceless. It was definitely worth the cash. All you need to do is add some hot water to coarsely ground coffee beans, wait for four minutes, press down, and you've got yourself some smooth, rich coffee. Although there are a handful of negative reviews on Amazon where the purchaser has said they taste some kind of plastic in their coffee (the plunger inside is made of plastic), we have not had this experience at all. All we've had is the seriously addictive, amazing kind of coffee 🙂
BUY The Bodum Columbia 8 Cup Stainless Steel Thermal Press Pot HERE