Product Review: Kevel Mommy
A few months ago, I wrote this blog post for Baby Gizmo on five ways to wear your non-maternity clothes longer. Since then, I've had the chance to try a new product that will also expand the life of your pre-pregnancy pants. (I am now in my second trimester of pregnancy with my third child.) It's called the Kevel, and it's a lifesaver during early pregnancy and, I imagine, post-pregnancy.
The Kevel was designed by mom Rachel Kearl, who was frustrated about no longer fitting into her favorite designer jeans during pregnancy. Like many moms-to-be, she started using a hair tie to keep her jeans up, but found that her zipper would often slide down. I had the same problem, so a hair tie never worked for me. That's when she came up with the idea for the Kevel, a handy little band that holds your jeans closed and keeps your zipper from falling.
There are three types of Kevels—the Fly Ties, the Perfect Fit, and the Mommy. The Kevel Mommy is designed for pregnant women, so that is the one I tested. I found it to be comfortable to wear and easy to use, and it gave me another six weeks in my favorite skinny jeans. (I probably would have used it longer if I had gotten it earlier in my pregnancy.) And, it really worked! No more tugging at my waistband or constantly pulling my zipper up!
The Kevel Mommy is made up of two loops—one elastic and one non-elastic—with a round rubber piece in the center. To use it,  thread the non-elastic loop through the hole of the zipper pull tab and pull it through to knot it. Pull the rubber piece up and anchor it onto your pants button. Then thread the elastic loop through your button hole and pull it back and over your button. (Click here for a video tutorial.)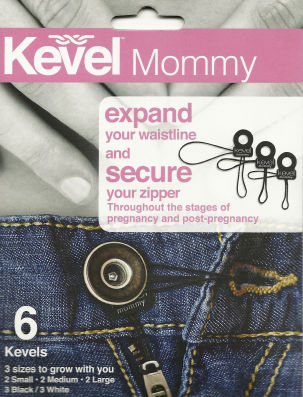 The Kevel Mommy costs $16.99 for a six-pack in three sizes—small, medium, and large—to grow with your pregnancy. The pack includes a black Kevel and a white Kevel in each size.
The Kevel Perfect Fit works the same as the Kevel Mommy, but is meant to be worn simply with jeans that no longer quite fit. It would work great post-pregnancy when you're transitioning back into your pre-pregnancy pants, or if your jeans mysteriously shrank in the wash. (How did that happen??? Ha!) The Kevel Perfect Fit sells for $14.99 for a four-pack of two sizes.
Finally, the Kevel Fly Tie is meant for pants and jeans that may still fit in the waist, but have a pesky zipper that keeps sliding down. (We've all owned some!) It's simply one loop that attaches to your zipper's pull tab and to your button above it to keep the zipper up. The Kevel Fly Tie costs $9.99 for a four-pack, and one size fits most.
Overall, the Kevel products are a simple and affordable solution that can save you lots of money on new pants and jeans. Plus, I love to support fellow moms' businesses!
Happy zipping! 😉