We all know about the educational and entertainment benefits of flash cards for little ones. Many flash cards, however, are very simple—a picture with a word underneath, perhaps. Most of them didn't hold my twin boys' interest for very long. Then, when searching for something to entertain the boys on a long flight when they had just turned a year old, I came across DK Publishing's My First Touch & Feel Picture Cards. What a lifesaver! The boys are now 2 and they still absolutely love these cards. Plus, they learn a lot from them!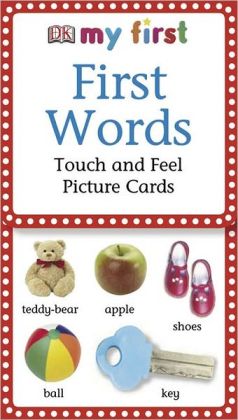 There are several sets of flash cards in this series, which is geared toward babies and toddlers ages 1-5. They include First Words, Animals, Farm, Things That Go, and more. Each set includes 16 sturdy cards and generally retails for $8-$9 on amazon.com.
The front of each card has the name of an object, animal, color, shape, or number, along with a colorful photo depicting it. Each photo has a textured portion for little ones to "touch and feel"—a teddy bear with fluffy feet, a tractor with bumpy wheels, a dog with a furry torso, etc.
The back of each card has several questions for parents and caregivers to ask about what is pictured on the front. A card featuring a sweater, for example, includes the following questions: "What do you see on this card?" "What does the sweater feel like?" "What color is this woolly sweater?" "What time of year do you wear a sweater?" The back of each card also features the word in Spanish, German, French, and Chinese.
Finally, every box includes a card that gives caregivers ideas on how to use the flash cards, and describes games—both simple and advanced—to play with the cards.
Needless to say, each set of My First Touch & Feel Picture Cards packs a whole lot of punch for a low price. The cards can be used in so many ways as children grow. When my boys first started using the cards, they just liked to look at and touch the pictures. They could also spend hours carefully taking each card out of the box and then putting it back in. As they got older, they started saying the names of the items on the cards and making appropriate noises: They'd hold up the cat card and meow, or the truck card and make rumbling noises. Now, I actually ask them the questions on the back of the cards and play games with them. I'll spread out an assortment of cards, for instance, and ask the boys to hand me all the cards that show animals, or all the cards with blue items on them.
I keep a box of these cards stashed in my diaper bag at all times to occupy the boys in a pinch—at restaurants, while running errands, etc. They are also perfect for long airplane and car rides. The boys just don't seem to get tired of them. Honestly, these are the best flash cards I have found on the market. Give them a try!