When my twin boys were around 16 months old, one of them decided he would no longer eat a single morsel of food with his hands. Whatever it was—chunks of fruit, a dish of spaghetti, even a cookie—he wanted to use a fork or a spoon. The problem was, we had tried nearly every brand of toddler utensils out there and the boys seemed to have trouble with all of them.
Then one day, I came across the Gerber Graduates Kiddy Cutlery Fork Set, by NUK, while out shopping.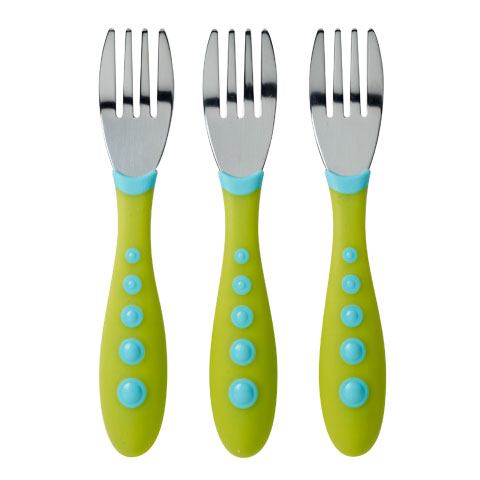 They looked different from the other toddler forks we had tried, so I threw them into my cart. I also picked up a Kiddy Cutlery Spoon Set.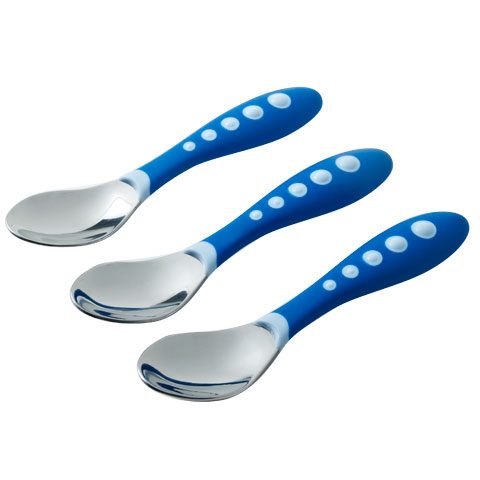 That night, I set plates of macaroni and cheese and peas in front of the boys and handed them their new forks. And suddenly, it was like a light bulb went off in their little heads. They easily speared their food and placed it into their mouths, even picking up and devouring individual peas. The next morning, I gave the boys their new spoons with their bowls of yogurt, and they had the same success. I went back to the store and stocked up on the utensils, and we haven't turned back since. Even now that my boys are nearly two and have mastered eating with utensils, these remain the best ones for them. Here's why:
The rubbery handles are soft and perfectly sized for little hands, making it easy for toddlers to hold them. I found that a lot of other toddler utensils had handles so skinny, my boys had trouble gripping them.
The stainless steel tines of the fork are not sharp enough to hurt kids, but are long enough to easily spear food. (My son, in fact, was picking up broken pieces of crackers with one of them.)
The spoons are deeper than adult spoons, making it easier for toddlers to scoop food and for the food to stay on the spoon. The spoons are also just the right size to fit into little mouths.
Since the forks and spoons have stainless steel tips, they look like adult utensils. This is a huge deal for my boys, who want to eat like grown-ups. They would refuse to eat with plastic utensils and instead whine and reach for our utensils, which were way too big for them to use.
The utensils are definitely helping the boys transition to adult utensils. Now if we go to a restaurant, the boys are able to use a salad fork or a teaspoon more easily because they've had such great practice with their NUK cutlery.
The utensils are dishwasher safe and still look brand new despite the tons of wash cycles I have put them through. And they are very sturdy! My boys have flung them onto the floor numerous times and they have come out unscathed.
They are inexpensive, averaging about $5.00 for a set of three. How could you go wrong?
They are BPA free!
NUK also has a Kiddy Cutlery Set that includes a fork, a spoon, and a knife.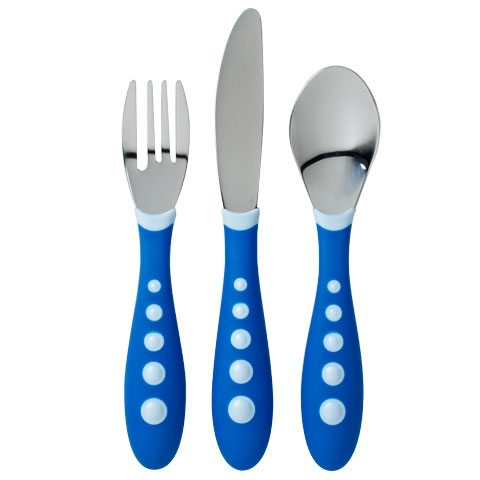 I am going to wait until the boys are a little older to let them try using knives, but reviews I've read on various websites have shown that people love the knives just as much. They are not as sharp as adult knives, so they are safer for kids, yet they are sharp enough to cut soft foods.
The utensils come in blue, green, and pink, so you can stock up on a nice variety. Such simple products have truly saved mealtimes for my family. Go grab some and give them a try!