Scenario 1: An 8-year-old child jumps out of the car as soon as her mom puts the car in park. The mom tells the child to stay close as she gets her 2-year-old out of her car seat. The 8-year-old sees a butterfly and while she's been told the dangers of wandering in parking lots, she becomes distracted and forgets all about parking lot safety. The mom is still unbuckling the toddler and as she looks up to see her older child running to the other side of the car. The mom freaks out and demands that the child return to where she had been told to stand.
Scenario 2: A mom is carrying a (heavy) toddler on her hip after picking her 3-year-old son up from preschool. She decides to put the toddler in his car seat first because her arm is about to fall off. She desperately tries to reason with her preschooler to stay close while trying to wrap one leg around him before he can run into the parking lot.
Scenario 3: A mom and her 4 kids get out of the car and start walking towards the park when the mom all of a sudden realizes that she forgot the sunscreen. She asks the kids to return back to the car with her as she reaches in the passenger side door to locate the missing sunscreen. The kids just want to go play on the playground and are ready to bolt across the parking lot without a care or fear in the world.


Have you been in one of these scenarios before? Or have you seen one of these scenarios happen? I sure have. And scenario #2 is me!
Thankfully there are tools out there that help aid in teaching kids about parking lot safety. Tools like the Parking Pal. Obviously it's not going to replace adult supervision and it's not going to force your kids to stay in one spot but, through the years, I've found that little things like the Parking Pal help with teaching kids the importance of safety. Also, kids are drawn to and interested by things that make them feel important and like individuals. Having their very own spot (or item) sparks an interest and from there, parents can begin explaining the importance with using a visual tool.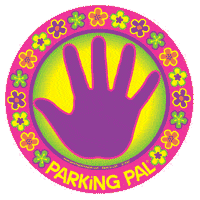 The Parking pal itself is a bright and interesting flat magnet that sticks very well to any car. Each magnet is about 6″ in diameter and there are a few colors and themes to choose from- see the selections to purchase HERE. I would suggest having your children help you when you are choosing which one(s) to order so that there is no fighting over who uses which Parking Pal.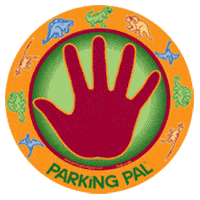 MISSION:
Help reduce injuries to children in parking lots
Heighten awareness of the dangers in parking lots.
WHY IS IT NEEDED:
Parents, grandparents, day-care providers, aunts, uncles, friends, or whoever is caring for a child can be easily distracted in parking lots. Loading or unloading packages, rifling for keys, tending to the baby, or helping elderly parents can take precious attention away from our children, leaving them vulnerable to a number of dangerous situations. Other drivers can't see when they back up because the car next to them is too large or they're distracted by their cell phones, or blind spots make it easy for them to overlook small children who may be behind them. And children, well, they don't always do what they're told or stay where they should. It only takes one second for tragedy to strike
HOW IT WORKS:
Place the Parking Pal on the side of your vehicle, where it will remain safely attached at all times. It was specifically designed with bright colors, playful illustrations, and a small palm children love to place their hands on. After a couple learning sessions, your child will discover that the Parking Pal is their safe spot, and they will know where to go the second they are outside the car. It also helps teach them that parking lots are no place to play.
You can buy Parking Pals on Amazon.