My 3-year-old is at an awkward stage, he can't decide if he wants to ride in or on the stroller, be held or walk next to me like a big boy. I usually give him two to four options (depending on where we are and which stroller I have). Option 1. sit in the stroller, Option 2. stand on the stroller board, Option 3. hold my hand, or Option 4. hold on to the strap of my purse-, which I hang on the stroller (when I have the one purse that has a strap that dangles). Normally I try to reassure him that it's okay to walk because we are encouraging him to embrace his newfound Big Boy status. But I know that he needs to feel some security every once in a while. Plus, hanging on to the strap of my purse is not the safest option as I fear that my purse will slide down the handles- bringing him down with it- or that he will get caught in the wheels.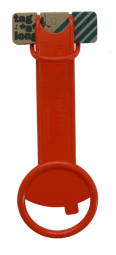 When we were sent the tag*a*long to test out, I did a little jig. I knew that my 3-year-old would feel a sense of independence with his own special place along side the stroller. A designated spot just for him but it would also allow him the freedom to explore at a moments notice. Remember, we're all about exploring, learning our boundaries, listening with our ears and becoming a Big Boy!
The tag*a*long fits most strollers. We tested it out on our Bugaboo Cameleon, Maclaren Volo and Phil and Teds Explorer.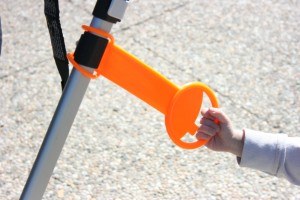 Installing the tag*a*long is simple and requires no hardware or tools. Simply loop it around the stroller frame at the desired height and pull the handle tight. I was able to position the tag*a*long on each of our strollers without it sliding down the frame. I actually found that each one of my strollers had a special little spot for it (like around the folding button on our Bugaboo- pictured above).
When the tag*a*long was not in use, I could leave it be or turn it so it was flush with the stroller and out of the way. I even left the tag*a*long on the stroller when I put it in the trunk of my car. It didn't interfere with the fold or storage of the stroller and then it was ready to be used at our next destination.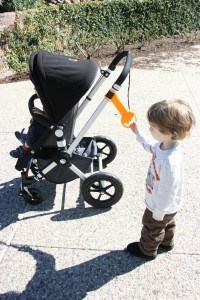 The tag*a*long is made in the USA, is lead-free, BPA-free and meets the new CPSC's CPSIA standards. It's weatherproof and super easy to clean- which is a must with grubby little hands! To clean, either wipe it down with a wet cloth or wash with soap and warm water. The tag*a*long is for ages 3 and up.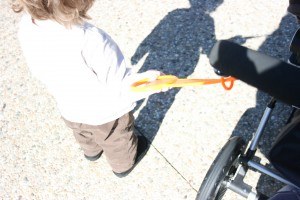 The length of the tag*a*long, after installed on our three strollers, varied ever so slightly based on the circumference on the stroller frame. All distances kept my son close enough so that I could keep an eye on him but far enough from the wheels so he was safe. It's flexible enough to install quickly and easily but it's more stiff than I initially pictured it would be. The sturdiness of the strap helps keep my son from wondering in to the stroller (since we all know kids don't walk in a straight line). The space that he holds on to is an open half circle- it provides a perfect sized (inviting) opening for his hands to grasp and hold tight.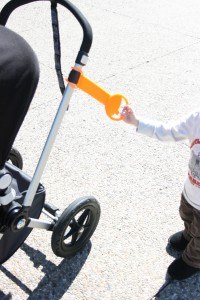 My son named his Tangerine tag*a*long, "Buddy". I thought that was cute. Now, when I sense him getting antsy or bored, I ask him if he'd like to hold on to Buddy. His mood changes and he grabs on to his new orange friend. We've gone on walks, to LEGOLAND, even to the grocery store and he rocks it, he actually listens to me when I ask him to hold on to Buddy! For me, he's within eye shot and safe. For him, he feels important and independent. Onward to becoming a Big Boy safely, gradually and while having fun!

You can find tag*a*long Amazon, BabiesRUs and on their Website.