Puj PhillUp Kid's Cup Review
Many parents have fallen in love with the baby and kid's brand, Puj, thanks to this amazing and compact bath tub, but have you seen their latest product? The Puj PhillUp kid's cup system is just as genius!
I first stumbled across PhillUp during the Kickstarter phase. Well, truly, my mom saw it and forwarded me the link asking if she could become a supporter and snag part of the first run of PhillUps for my kids. My answer was a resounding, "YES!" These cups seemed to be exactly what my kitchen needed!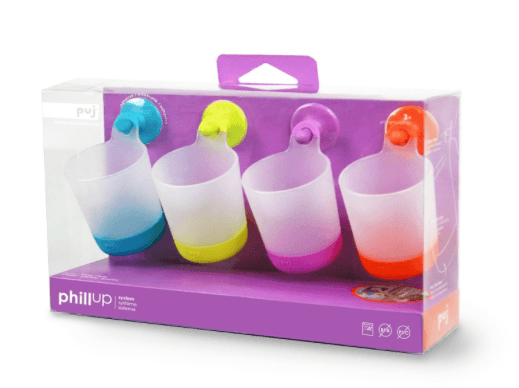 PhillUp is the world's first hangable kid's cup. They affix directly to your refrigerator (in our case, right underneath the door water spout) and give my kids easy access to water all day long. The best thing though, is that they aren't using ten water cups throughout the day! They each have their color and can sip to their heart's content without overflowing my dishwasher.
PhillUp cups are dishwasher safe, BPA and PVC free, and come with the adhesive you need to set them up in your kitchen. Cross my heart, having PhillUp cups these last few months has saved me so many dishes and my kid's love the independence of being able to get their own water whenever they feel a little thirsty. Thank you, Puj, for another great product! I can't wait to see what you come up with next!

PhillUp is available on Amazon and you can choose between 1 cup ($9.99), 2 cups ($18.99), or 4 cups ($34.99).