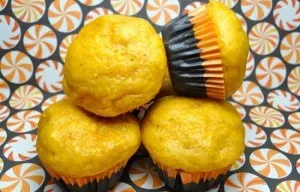 I love when I come up with a recipe that can be used for two different meals. You can make these muffins for breakfast or snack or if you're in our family both. I substituted the usual butter and oil for yogurt and they came out super yummy and light.
The recipe make approximately 40 mini muffins so I refrigerated the remainder in a container and just warmed them for 10 seconds in the microwave when we wanted to eat them.
I think pumpkins don't get enough credit and use in the kitchen outside of pumpkin pie. Pumpkin is loaded with healthy stuff and it brings a nice depth of flavor to your recipe that you can't get from anything else. So next time you see a can of pumpkin in the supermarket think of all the possibilities!
Ingredients:
2 cups of flour
1 tablespoon of baking powder
1 tablespoon of baking soda
1 cup of pumpkin puree
1 cup of yogurt
2 eggs
1 cup of sugar
1 teaspoon of vanilla
1 tablespoon of pumpkin pie spice
Method:
1. Preheat oven to 350 degrees.
2. Combine dry ingredients flour, baking powder, baking soda, sugar, pie spice.
3. In a separate bowl combine pumpkin puree, yogurt, eggs, vanilla.
4. Add wet ingredients to dry ingredients and combine.
5. Using a mini muffin tray pour one teaspoon of batter in each and bake for 12-15 minutes.
* Makes approximately 44 mini muffins