Whether to Push for a "Push Present"
Okay, so the name sounds completely ridiculous, and the idea kind of is too—a present for pushing a baby out (although c-section moms surely would deserve a gift for having their bellies sliced open, no?)? Isn't that what's supposed to happen at the end of a pregnancy—that you get the baby out, somehow? Do we need to be rewarded for completing the natural cycle of pregnancy? Then again, when would I not accept a gift, especially after rocking labor and delivery and upping the awesomeness factor of our family by approximately 1,000, courtesy of a new addition?
Yep, that's right. We're talking about "push presents" today—usually a gift given by a husband or partner to a mama who has just had a baby. Are they necessary? In my opinion, no—of course that sweet new babe is reward enough. But are they nice to receive? Um, yes. Indeed they are.
When our first son was born, my husband gave me an initial charm with a 'B' for our son Ben. When our second son was born, he added an 'H' for our son Henry. With this next (and final) baby, I would imagine there will eventually be a third charm with her first initial on it.
Do I think I deserve a gift for birthing a baby? Well, no. But I'm all for a token of my husband's appreciation of the nine months I spend pregnant and then the hours of agony spent in labor. I think of push presents more as a celebration of a mama's role in bringing a new life into the world than as a reward for her physical labor, though. Some women find them demeaning or just silly, and I get that too (but that still doesn't change my glee at opening up a little jewelry box a few days after giving birth).
If you're keen to receive a "push present" and want to pass along some gentle (or not-so-gentle) hints to your partner in advance, here are a few ideas for push gifts (and I'd love to hear more from you!):
Hand Stamped New Mom Jewelry by Etsy shop rachelvannatten ($38.50)
Personalized Thumbprint Heart by Etsy shop LilyBuds ($67)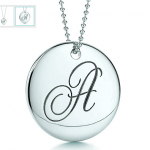 Alphabet Pendant from Tiffany ($175)
Custom Photo Sterling Silver Ring from Etsy shop smithphotoworks ($106
A mini family vacay (once you're feeling up to it)
A new TV (for all those hours you'll be parked on the couch during feeding sessions; the proud papa is sure to love this gift too)
A swanky item for your nursery (or a rockin' new stroller that you've been coveting for ages)
Did you hope for or receive a push present? If so, what was it?