Putting Mom First: 8 Ways I Take Care of Myself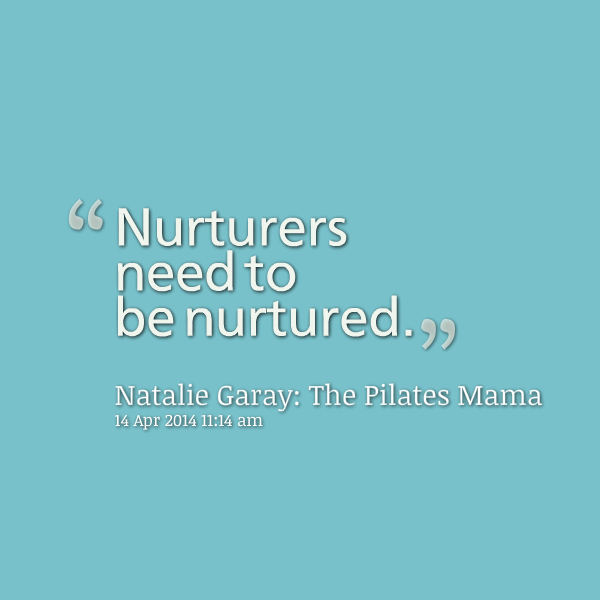 Parenting is hard work. I honestly don't think anyone would disagree. It's a 24/7 job. You parent when you're ill. You parent when you've already had a long day at work. You parent for years on end with rarely a break. And when you do take a short getaway, your children are still on your heart and mind. It's no joke, parenting drains you in the most beautiful way.
So, how do you stay energized? Motivated? How do you parent well when you're constantly giving? The quote above from Natalie Garay couldn't ring more true for you and I, "Nurturers need to be nurtured." It's that simple.
I get it though, it's not that easy. We're on call each and every day so how do we find that illustrious "me time"?
These are a few ways I'm aiming to take care of myself better. Because when I take care of myself, I'm better equipped to take care of my family.
Take evening baths – A warm soak with a dash of epsom salt after the kids are asleep works wonders when it comes to relaxation.
Read a good novel – Not a parenting book or self-help memoir, go for a real novel where you can escape a bit and dwell on a fictional character's life.
#TGIT – Have you seen the new hashtag, Thank God It's Thursday? If you tune in for Grey's Anatomy, Scandal and How To Get Away With Murder, know that I'll be munching on a snack on the couch watching the same 3 shows every Thursday!
A walk outside – When the kids are going crazy and I don't have relief for hours, we pack up in the stroller or wagon and head outside. Fresh air is a miracle worker.
Mom time out – Do you think SuperWhy knew it was created not only to teach kid's their letters but also to save parent's sanity? Start that 30 minute show and tuck into the room next door for a few quiet minutes to yourself. Deep breathing alone time is good for us all.
Gym escape – I don't love to work out, but I try to as often as I can. Half for the exercise and half for the awesome childcare.
Appointment getaway – At least once a month, I aim to schedule an evening appointment. My husband comes home a little early (or, let's be honest, he just does everything in his power to be home on time) and I leave the house for an oil change, pedicure, hair cut, massage or required meeting with other adults. It's lovely to drive my minivan away from the house with empty carseats.
Embracing a guilty pleasure – I love myself a nice coffee drink, so much so apparently that my kids now refer to the Starbuck's baristas as "mama's friends." Whatevs. I need a little treat a few times a week, and so, I embrace that grande double decaf americano with 3 pumps of pumpkin sauce and extra steamed cream.
What do you do to take care of yourself?
Photo Source