Q&A With A Cancer Mom – Meet Gretchen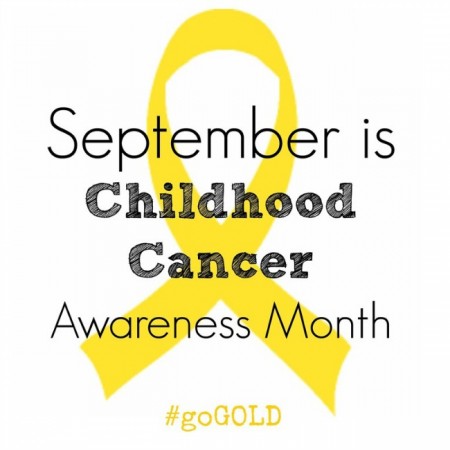 Did you know that September is Childhood Cancer Awareness Month?
Until my son had a short-lived, but scary tumor screening two years ago I had no idea! But it's true … September is a special month dedicated to raising awareness, funds and support for kids battling the evil of cancer. A noble cause that we all need to get on board with.
It's with a heavy heart and a fair share of tears that I introduce you to Gretchen today. Gretchen is 4 year old Simon's mama. She's a brave woman who is not only advocating for her son every day, she's also a mama who is fighting to raise awareness about childhood cancer so we can find better treatments AND A CURE. Her goal is to keep cancer away from our kids. Can I get an Amen?
Here's a bit about Simon's story, how you and I can get involved in raising awareness about childhood cancer, and hopefully moving towards a cure!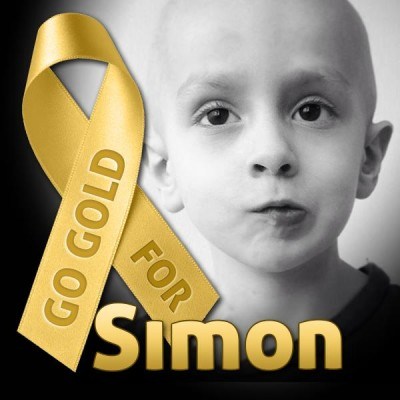 Hi Gretchen! Can you start off by sharing the highlights of Simon's story?
Simon was 12 months old when I found a bulge on the side of his abdomen. The next day his doctor sent us to the ER where we became one of over 40 families in the US that day to be told our child has cancer. It was kidney cancer, assumed to be Wilm's Tumor which is very treatable.  Once biopsied, it was determined to be Clear Cell Sarcoma of the Kidney, much rarer and not as good of a cure rate. He had his right kidney removed and went through seven months of chemo.  
Once the kidney and tumor were removed he was NED (no evidence of disease) until about two years after he finished treatment. He had a few severe bouts of nausea over 3 weeks lasting one day per week. Then the day after one of these as I saw facial asymmetry as I laid him down to sleep. In the early hours of the next morning we were told in the ER he had an inoperable brain tumor.  It was in such a terrible place they didn't even dare biopsy it. He was put on an intense ICE chemo protocol for 8 rounds with 28 radiation treatments in between.
What do you wish people knew about being a "cancer mom"? Is that the right name for mom's in your shoes?
We proudly use the term Cancer Mom. We are sisters in this fight none of us wanted to join. 
I most wish people could understand that we will ALWAYS be Cancer Moms. My experience is the mother of a fighter/survivor so that is what I will address. Our kids may get their hair back, they may return to school, but that does not mean that everything is all better. The treatments our kids get are so brutal that we must be forever vigilant in looking for the numerous side effects they are almost sure to get. They can range from heart problems to hearing loss to learning disabilities.  The treatments themselves can cause secondary cancers. And all this is in addition to the risk of relapse. From this day forward any time Simon mentions a headache it will terrify me, if only for a moment. 
Little things are not little to us now. Many parents suffer from PTSD from the brutality of watching your child endure their cure. Parents that lose their children are often the biggest advocates because they have made promises to their dying child that they will make it better for the kids that come after. 
There is also the need for constant follow up. After his initial diagnosis, Simon had to have a MRI of the brain, nuclear bone scan, and abdominal CT every three months. That is a lot of radiation. After two years it's much better with simple chest X-rays every six months. We were just at the point where we didn't need to get these tests anymore and he relapsed. That resets the clock.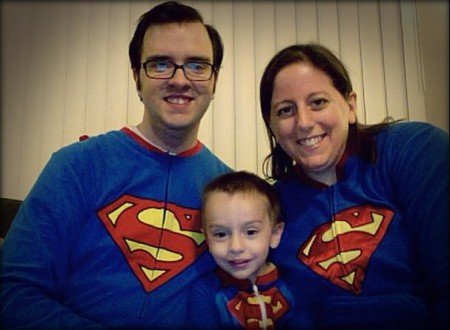 How is your life "normal"?
That's a hard one to answer. I try to make it as normal as possible, but nothing seems normal, especially when you have a child in treatment as I do. He cannot go to school so I do my best to have some sort of structure and do some light school type things at home. But that has gotten more challenging the further into this we get. We are lucky that Simon only needs chemo every three weeks so even though we might spend the better part of two days in clinic we are home most of the time. We have the same battles about too much TV and picking up toys that everyone has.  But even things like that are tricky when he's in the hospital for days in end and feels lousy when we get home. It's hard to fill the hours.
How is it most different?
We are most fortunate that Simon is tolerating his treatment so well. But even in that situation there is the constant worry/anxiety because you have very little say in so much of your life. A fever could come up at any time which means an automatic hospital stay of close to a week or more. I am always packed. Half my wardrobe is always ready should we need to go to the hospital. And what should be routine hospitalizations aren't routine. Last month we had to try five times to be admitted for chemo but his ANC (white blood cells) wouldn't come up. His blood was tested twice a week so we were constantly on call. 
The other big thing is immunity. Chemo skills off white blood cells which lowers their immunity so we stay at home as much as possible. It really hampers the lifestyle of an active four-year-old boy.  The chemo also kills off platelets and red blood cells so frequent transfusions are the norm.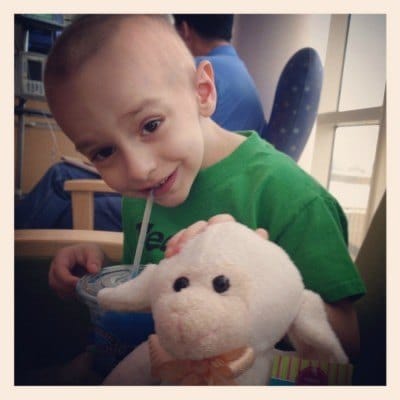 What organizations should we donate to if we really want to make a different in fighting childhood cancer?
There are two different types.  The first, and arguably most important, are the large research foundations or institutions. The NCI allocates just under 4% of their budget to all childhood cancers. The American Cancer Society is even worse because they allocate less than 1% of their funds to childhood cancer. There is a great aversion to the ACS within the childhood cancer community. One problem I see with our advocates is there is a lack of unity. If you want to donate for breast cancer research, most people will write out a check to Komen without thinking twice. With childhood cancer there are countless choices. St. Baldrick's, Alex's Lemonade Stand, and CureSearch are my favorites because they focus on childhood cancer, are national, and reputable. 
The other area you could donate to are smaller, local support groups. Often one parent needs to stop working to care for the child so groups that give financial resources to families are great. Or there are charities often started by parents that might give toys or specific items to kids. Simon has been spoiled by a family that gives bears (Bennett's Bears), another group that crotchets bald dolls (Feel Better Friends), huge boxes of toys (Brennan's Buddies), and we are working on getting him a custom painted pair of shoes (Peach's Neet Feet).  Your local childrens' hospital should be able to point you in the right direction if you aren't sure what's in your area. 
Outside of financial contributions how else can we offer our support?
Offer to run errands, watch the kids at your house or theirs. Getting out is great but sometimes I feel like I have so much on my plate I can't think straight. Getting some alone time At home is magnificent.  Bring fresh fruit and veggies to the hospital. Just visiting at the hospital is a treat for me because it breaks the monotony. The best thing to do is offer something specific because it feels more genuine than a vague offer to "help with anything". Personally, it also helps me to slow down and focus on what my needs are and is also great for people who are reluctant to ask. And if there are other children in the family, do something special for them. They can often feel left out. If you have a special skill you can share with the kids in clinic or inpatient, do it! Play music, do balloon animals, teach them to paint or knit. There truly are so many ways to help.
Anything else you'd like to share?
I don't know if it's denial because the truth is too hard or if the public just thinks childhood cancer is a few months with no hair.  But Cancer Moms and Dads see the brutality of outdated treatments that seem to do almost as much harm as good.  They shout and scream from the rooftops about how truly awful it is and we feel like much too often it falls on deaf ears. It's not until it's your son or niece or grandchild that you see childhood cancer for what it is. To add insult to injury is the fact that breast cancer awareness gets all the glory and starts creeping up in August, through September, which is really Childhood Cancer Awareness Month.  How many parents have to place their child's urn on their dresser before people start to give our kids the respect and future they deserve?
I've asked Jacob's mom if I could include this video just because it shows so clearly how horrific childhood cancer can be.
Will you join me in going gold for the month of  September? Let's do it on honor of Simon, Jacob and all the other children fighting to live and kick cancer to the curb! WE CAN MAKE A DIFFERENCE IN THIS FIGHT!!!
Photos provided by Simon's Mom, Gretchen
Top graphic from Just a Mom's Take On Things