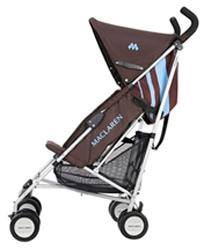 The U.S. Consumer Product Safety Commission, in cooperation with Maclaren USA, today announced a voluntary recall approximately 1 million strollers because the stroller's hinge mechanism poses a fingertip amputation and laceration hazard to the child when the consumer is unfolding/opening the stroller.
The firm has received 15 reports of children placing their finger in the stroller's hinge mechanism, resulting in 12 reports of fingertip amputations in the United States.
This recall involves all Maclaren single and double umbrella strollers. The word "Maclaren" is printed on the stroller. The affected models included Volo, Triumph, Quest Sport, Quest Mod, Techno XT, TechnoXLR, Twin Triumph, Twin Techno and Easy Traveller.
The recall strollers were sold at Babies"R"Us, Target and other juvenile product and mass merchandise retailers nationwide from 1999 through November 2009 for between $100 and $360.
Consumers should immediately stop using these recalled strollers and contact Maclaren USA to receive a free repair kit. Maclaren is providing free of charge to all affected consumers and retailers a kit to cover the elbow joint on the umbrella stroller's side hinge mechanism which can pose a potential finger hazard to a child when the operator is opening or closing the umbrella stroller.  For additional information, contact Maclaren USA toll-free at (877) 688-2326 between 8 a.m. and 5 p.m. ET Monday through Friday or visit the firm's Web site at www.maclaren.us/recall