While I am a big advocate for leaving your child in a 5-point harness car seat for as long as possible, at some point most parents make the decision to move their child to a booster seat.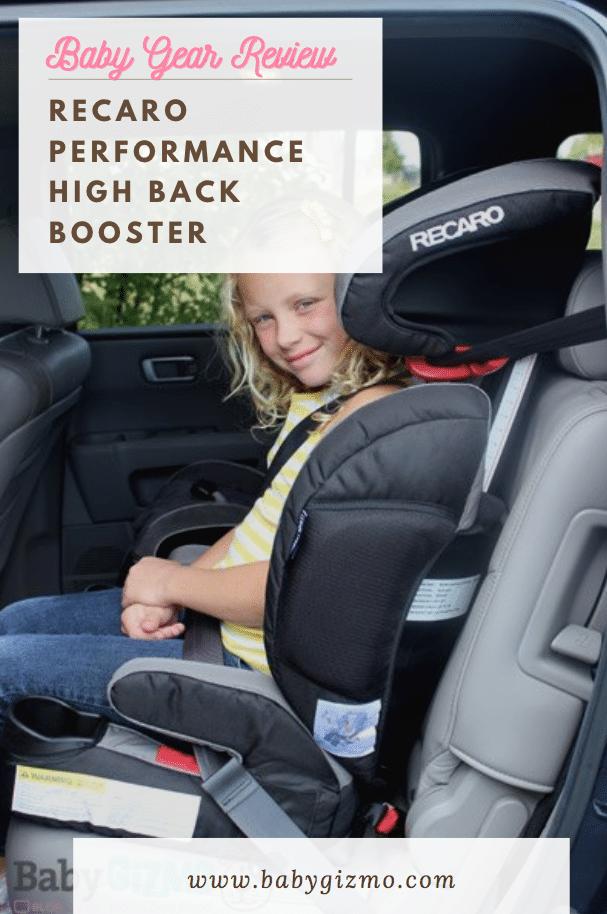 Recently, my 8 1/2 year old daughter was given the opportunity to test out the new Recaro Performance High Back Booster.
This German engineered booster seat has some great safety and comfort features for children 30-120 lbs (37-61″). While that weight capacity span is huge, I would not recommend placing your tiny 30 lb child in this seat. That is just too little for any booster seat without a 5-point harness in my opinion.
Once you have decided to move your child to a booster, your little rider will be comfy riding on a memory foam cushioned seat and keeping cool with the temperature balancing fabrics.
Parents will be pleased with the side impact protection that is built into the seat to protect the head, neck, face, torso and pelvis. The Performance High Back Booster also has a "QuickLift" 11 position head restraint to easily grow with your child. The one-handed head restraint lift is easy to do even with your child in the seat.
One of my daughter's favorite features besides the cushioned seat are the two cup holders. With removable cup holder linings, I'm happy that they are easy to pop out and clean.
My only word of caution is that this booster seat is a little wider than some other boosters on the market. The wide seat is great for bigger and wider children but could prove to be difficult next to two full-size convertible (or infant car seats) in a small car. This would only be a problem with parents of three kids in car seats in those small vehicles.
To see the Recaro Performance High Back Booster Seat up close and personal, watch our Baby Gizmo Video Review!
*Disclosure: Recaro sent us a booster seat for review. As always, all our thoughts, opinions and statements are our own. It takes much more than a booster car seat for us to just say nice things. 🙂