Today I'm reviewing the diaper bag I'll be using for my second baby, the Indi Mama Bag by Cleobella. If you haven't heard of Cleobella yet (I've reviewed one of their bags previously here) you should know that all of their products are made by hand in Bali. Their website states,
Cleobella's handmade process allows us the pleasure of personally working with local artisans and small factories, creating jobs and sustainable incomes in Bali, Indonesia.

In addition, Cleobella gives a percentage of all sales to empower women in South East Asia through CARE.org.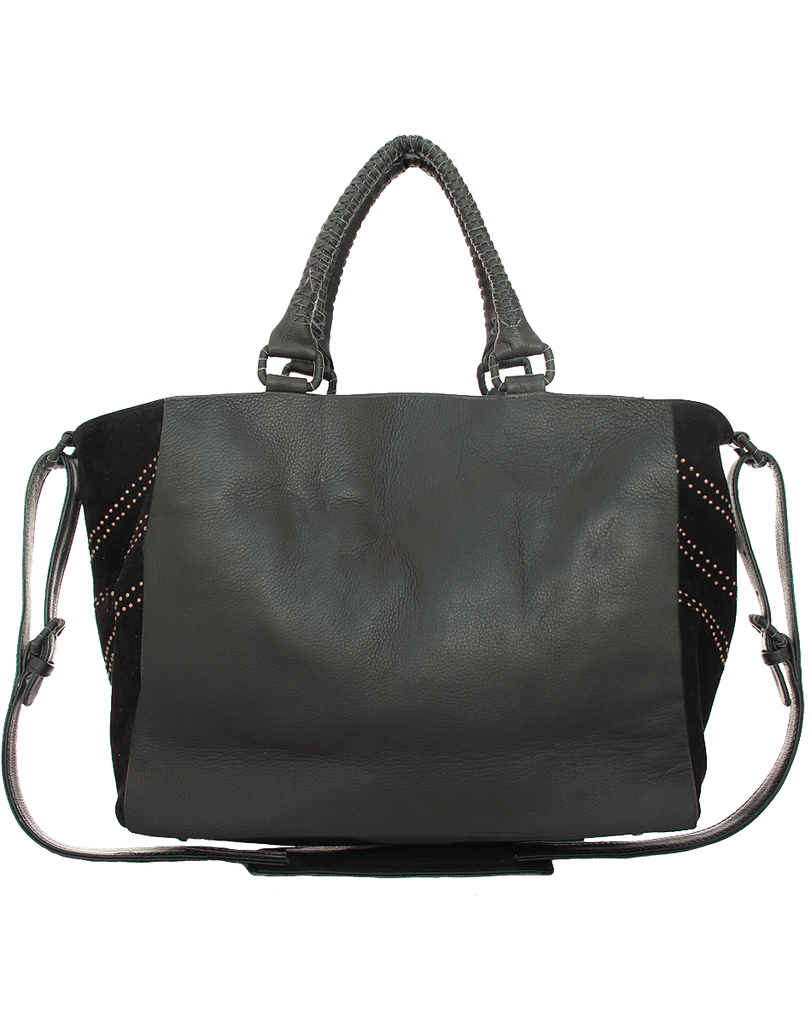 So that's why I love the company, and now let's talk about their latest diaper bag! Not that I ever would have guessed it was actually a diaper bag. If you're all about fashion, style, and staying ahead of the game, you don't need to sacrifice it all after the birth of your sweet babe. There are amazing companies like Cleobella out there that make that possible. The Indi Mama bag retails for $496, and while I know this is a hefty price tag, but you won't be sorry!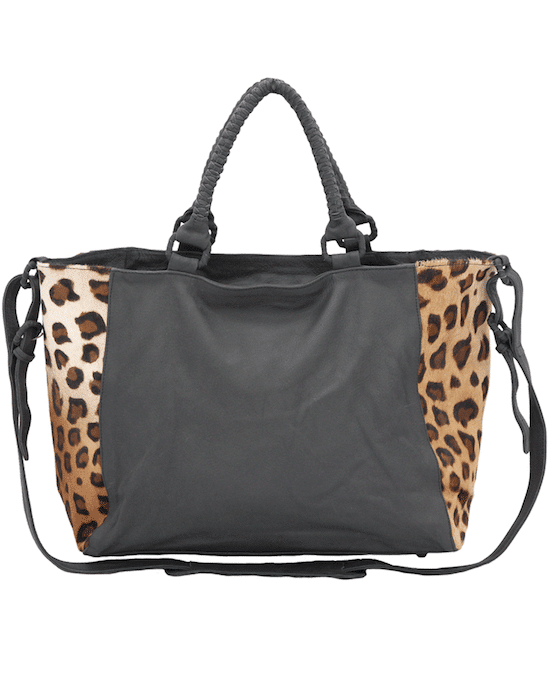 This bag comes in two colors: black with studded side panels, and black with leopard print panels. Both are gorgeous!
The Indi Mama measures 14.5 W x 11.5 H x 7 D. It's a very generous size bag and it will more than fit everything you want to carry for your newborn, older children, and yourself. It is made from genuine leather with suede side panels.
The top zips open and closed, and has a single snap closure. There is an adjustable shoulder strap and the bag is lined with an easy-to-clean interior that has multiple expandable pockets. Having an inside that you can simply wipe clean is a MUST when you're toting newborn items around! This bag also includes an Ikat printed changing mat to make diaper changes a cinch.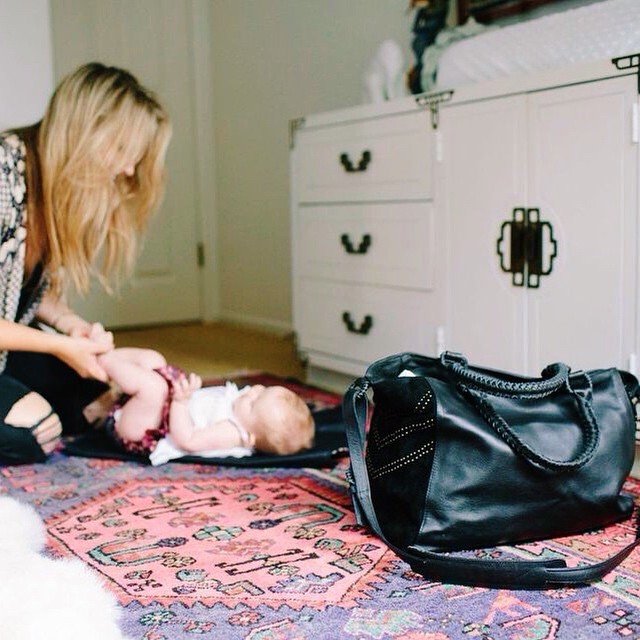 My favorite things:
You'd never guess this was an actual diaper bag.
You'll be able to carry it with you forever, long after you've got a newborn. I plan on making this not only my diaper bag, but my handbag once I no longer carry diapers.
Easy to wipe clean interior. Messes are going to happen, an interior that can be wiped down and won't be ruined by spills is a must.
Included changing pad. One less thing you have to buy. Plus it's a cute one.
Color options. Two options so you can choose your favorite.
Great organization. Tons of interior pockets and bottle pockets makes packing up your bag that much easier and finding things when you need them a breeze.
Built to last. Yes, this bag has a high price point, but that's because it's real leather and made from quality products that are going to last you for the long haul!
Plenty of space. I like to pack the kitchen sink when I have a new baby and this bag allows me to do just that!
The Cleobella Indi Mama bag is perfect for fashion forward moms who don't want to sacrifice style. Moms who appreciate a gorgeous handbag and want to make an up front investment on a piece they will carry for years. I am so pleased with this bag and can't wait to carry it on my arm with a baby on my other arm!