Review: Combi Fold and Go Double Stroller
When you are out and about or traveling with two kids, the last thing you want to worry about is folding a bulky, heavy, hard-to-fold double stroller. Juggling two kids is hard enough, you need a stroller that doesn't make things worse.
The new Combi Fold and Go Double Stroller to the rescue!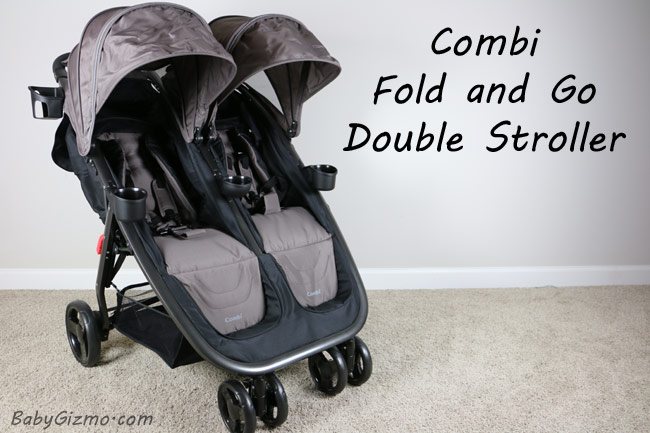 This side-by-side stroller has roomy seats, large, independent canopies and an easy, one-handed fold. Yes, you read that right – ONE-HANDED fold.
SEAT
The seats each have a 50 lb weight capacity. They measure 12″ wide, with a 17″ seat back and a measurement of 28″ from seat back to canopy. Each seat sports an adjustable, padded, 5-point harness to keep your little one safely in place. The seats have individual deep reclines that are easy to do with the strap system but they do not recline flat. Since the stroller doesn't accept infant car seats and doesn't have a flat recline, Combi recommends the stroller from 6 months and up.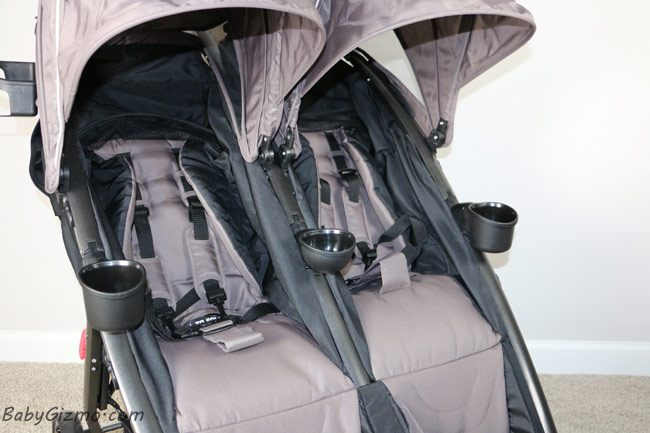 STORAGE
The basket under the seats is very large and will be able to fit a large diaper bag. We love the cup holder off the side of the handlebar for the parent and the kids love the individual cup holders next to each seat and a shared snack cup in the center of the seats. The large pockets on the back of each canopy are also convenient for storing your wallet, cellphone or parent essentials.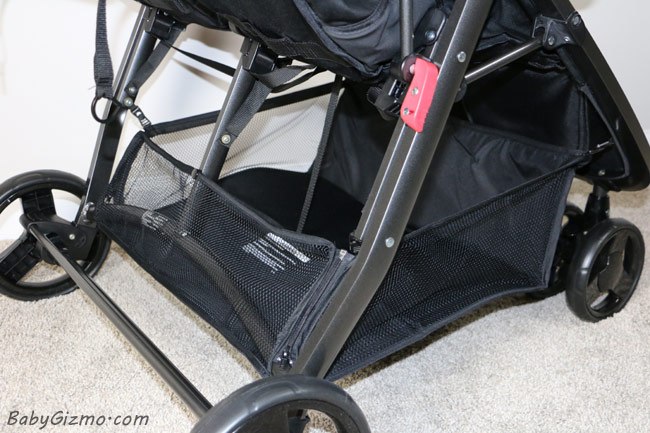 CANOPY
We always recommend individual canopies on side-by-side double strollers and this Combi doesn't disappoint. Each full-coverage canopy sports a pop-out sun visor and a large, mesh peek-a-boo window with cover.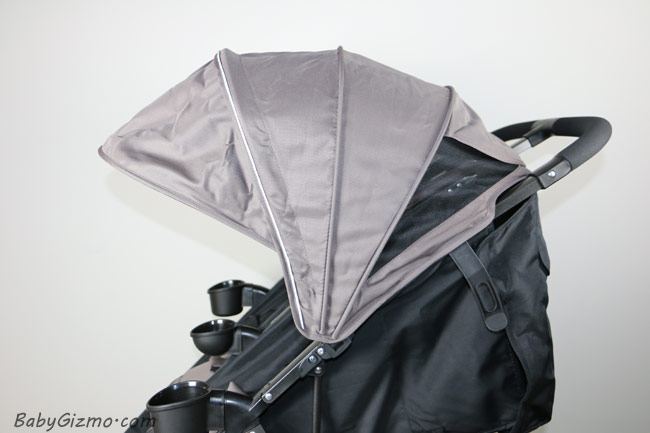 HANDLE
The non-adjustable handle is average height at 40″ from ground to handle so if you are super tall, you may want to try it out first before committing to the stroller.
WHEELS
The Combi Fold and Go rolls on 9″ single wheels in the back and two double 6″ wheels in the front. The front wheels are swivel wheels that have the ability to lock straight to tackle a bit of all-terain but the stroller is best on smooth surfaces.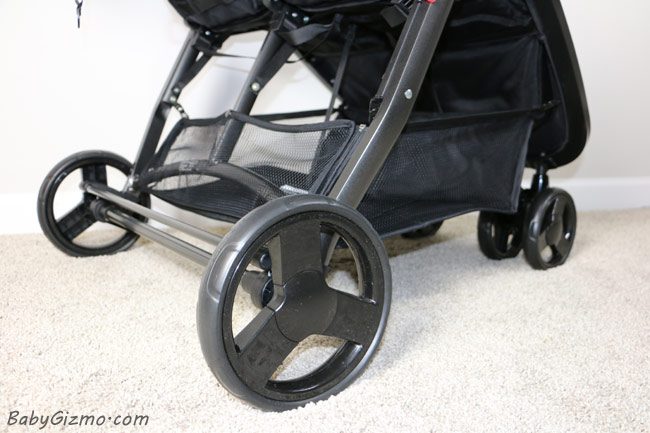 FOLD/UNFOLD
One of the best features of this double stroller is the easy, one-handed fold. You read that right – it has a ONE-HANDED fold. That is usually unheard of with double strollers. All you have to do is unlock the side safety lock and pull up on the one strap in the left seat. The entire stroller folds down easily into a standing fold and at a super lightweight 21 lbs, this stroller is great for travel.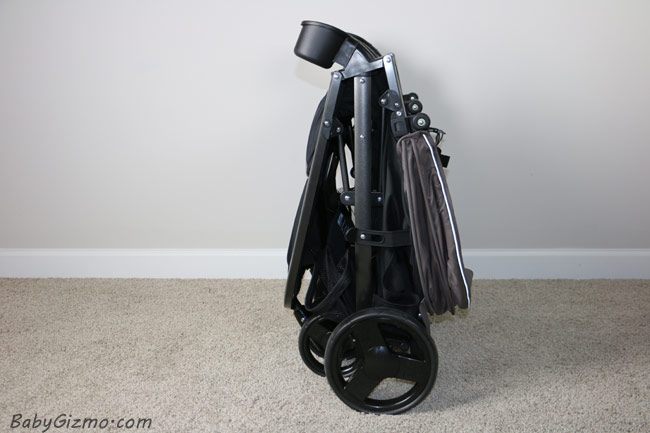 Unfolding it is about as easy as the fold too! Unlock the auto lock (you know how I LOVE auto locks!), lift up on the handlebar until the stroller locks open. Easy as that.
WRAP-UP
The Combi Fold and Go stroller is a great, lightweight option for travel or day to day activities with two kids in tow. The ample storage space, roomy seats, super easy, one-handed fold and lightweight package might make this the double stroller for you! Plus, with a retail price of $329, it won't break the bank either.
*Disclosure: Combi provided us a sample stroller to facilitate our review. As always, all our thoughts, opinions and statements are our own.