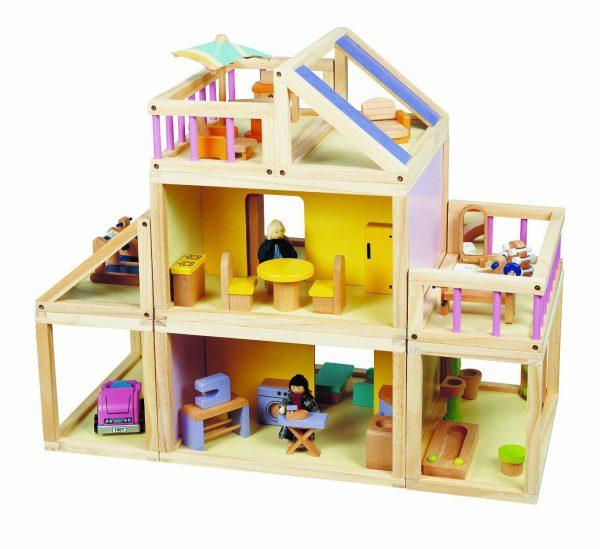 My daughter had been asking for a dollhouse since she got to play with her much older cousin's childhood dollhouse during a visit to her aunt and uncle's a few years ago. Her preschool classrooms always had one available to play with, though, so we didn't really have to do anything with the request. This year, the kid started Kindergarten—also known as The Land of No Toys—so when we started thinking about birthday presents, the dollhouse came to mind.
Aside from space, one of the reasons my husband and I didn't want to get a dollhouse was that we have an "allergy" to large plastic toys. I know that they work for some families and that's great—you do you—but we don't like them at all. Which left us stuck in the land of fancy and very expensive wooden dollhouses. Then I remembered that one of her preschool classrooms had had an industrial, classroom grade (read: indestructible) wooden dollhouse with simple furniture, which wasn't particularly pretty, but was fun to play with, durable, and not plastic (yay!). The furniture didn't have a maker's mark, so my husband and I started hunting for it online. We did not find the items we were looking for, but we both separately found a dollhouse and shared it with each other. What was the dollhouse that met our very picky requirements? The Maxim Designed by You dollhouse, which I am happy to review for you!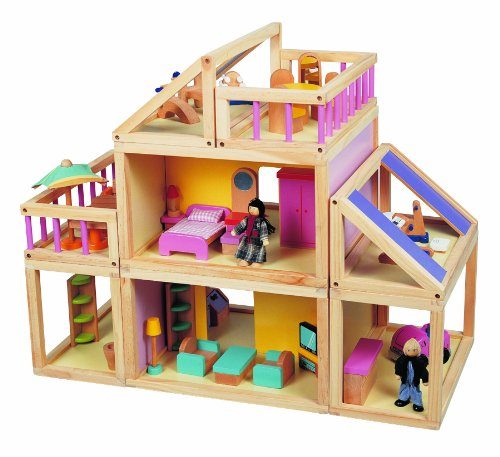 My parents gave the dollhouse to my daughter for her birthday this year, and it's just as much fun in person as it looked like it would be in the pictures. Let me tell you what I love about this dollhouse:
It's wood—no plastic at all. But it's not so twee and precious that she can't play with it. A lot of the wooden dollhouses I found were fancy with finer, less durable-looking furniture and I wouldn't be comfortable giving them to a five-year-old to play with.
You can configure the dollhouse into tons of different shapes! This is what caught my and my husband's eyes in the first place. There are two main floors that have two rooms each, plus six additional rooms, and all eight spaces are separate. Your child can arrange the rooms however they'd like to! It's like having a bunch of different dollhouses in one. Your child could even make two houses out of the pieces and have neighbors! I was worried that the rooms would slide all over the place when stacked on top of and next to each other, but they don't. And when my daughter's done playing, we stack everything up townhouse-style so the dollhouse takes up less room when it's not in use.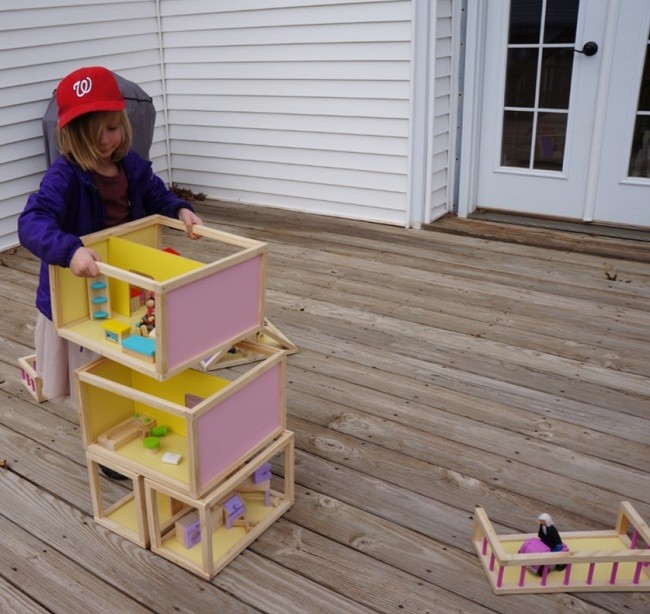 Everything is included. No, really: everything. All the rooms are furnished, including a set of patio furniture. There are also a couple of people and even a car.
The furniture accessories are absolutely adorable! There's a sewing machine and a tiny iron for the laundry room, and a weight bench with a barbell and dumbbell rack with six dumbbells for the exercise room. We all giggled over the toilet when we unpacked that. (Yeah, yeah, I know. Go, grown-ups.) Side note: This dollhouse is designed for ages 3 and up, but I would not have given the tiny pieces to my daughter when she was three.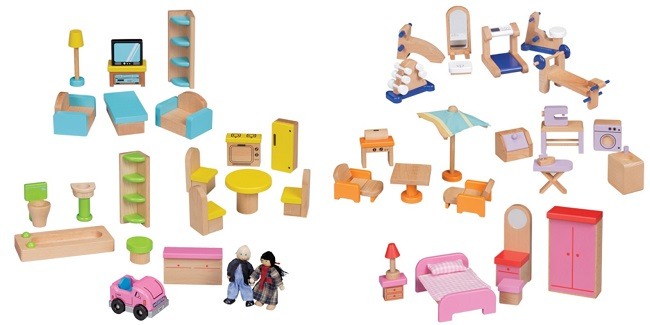 The pieces allow for open-ended play. So far, the house has been a garage for all my daughter's cars, a castle for her Disney Princess MagiClip collection, and the rebel base for her Star Wars action figures. (It doesn't work well as a landing pad for Luke's landspeeder, but she doesn't seem to mind.)
The furniture and other accessories are loose, so they can be rearranged however the homeowner would like. They also can come out of the house, and be played with on a table or floor to allow room for even more children to engage in play together.
We've had the dollhouse for about two-and-a-half months and have found it to be durable. The only damage that my daughter's house has suffered was caused by one of my dogs who decided to eat a kitchen chair a couple weeks after the dollhouse arrived. (Don't get me started.)
All that being said, here are a couple things I don't totally love:
I'm not really fond of the color scheme. I wanted something more in line with the colors of Pottery Barn Kids' dollhouses, you know, neutral. The Maxim dollhouse is not as complimentary to my living room décor as I would have preferred for a toy that lives next the piano.
This is thing is a pain in the ass to assemble. It's not hard, per se; there are just a lot of pieces. After assembling mine using the instructions that only have black-and-white line drawings (it's like Maxim is friends with IKEA), I did come across a set of photographed instructions on Maxim's website, which would have helped. But there are still a lot of pieces.
When it's all said and done, I absolutely recommend this dollhouse! The drawbacks are minor. And because it matters: In addition to the things I love about the house, the price point's not bad either! At the time I wrote this post, the Maxim Designed by You Dollhouse was available for about $105 at Amazon, with free shipping for Prime members. That's a pretty awesome price for an all wooden dollhouse that comes fully stocked with furniture, accessories, and dolls.
If you're looking for a dollhouse to gift to some lucky little person in your life, I don't think you can go wrong with Maxim's Designed by You dollhouse.