I'm checking in today with a new favorite toy in my household! The Melissa & Doug Take Along Show Horse Stable Set with Wooden Stable Box and 8 Play Horses is quite a mouthful. It is, though, a really fun toy that both of my kids enjoy! Check out my review below.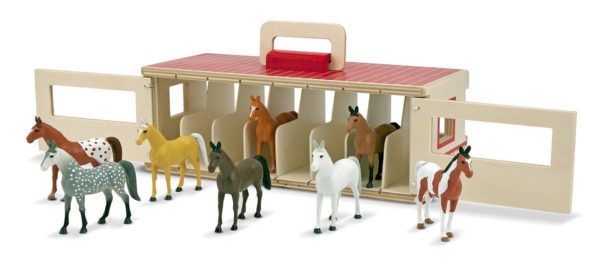 This stable set is very well constructed, as it to be expected from Melissa and Doug. It is a sturdy wooden stable, yet it's lightweight. It is constructed with a carrying handle on top (hence the 'take along'). The stable doors open completely on an elastic band, and latch in the middle to close securely. My 18 month old is rough on this (as toddlers that age tend to be) and we have not seen any wear on it.
My kids aren't necessarily 'into' horses at this age. I say that because if you do a little research on this particular stable set, many people seem to be questioning the authenticity of the horses and their sizing/features. I am not familiar with different breeds, so I have no input regarding that. I can say, however, that my kids really enjoy the different details and features of the various horses.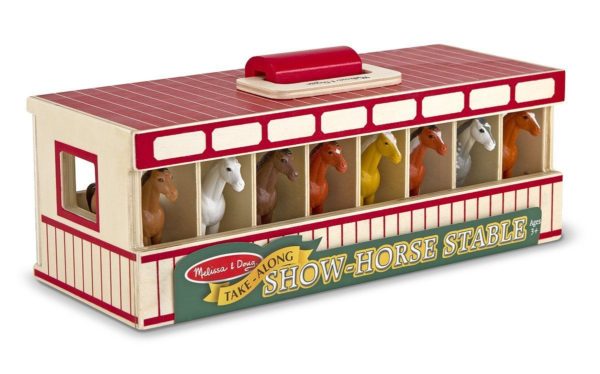 Eight horses are included with this play set. They are made from molded plastic. They, obviously, fit perfectly in the stalls. They are each a different breed, and Melissa and Doug have taken it a step further to include a breed guide on the bottom of the stable. My 3 year old loves to match the horses to the pictures!
Another fun little feature the stable includes is blank labels to attach to each stall. My son had a great time choosing names for each horse! While my kids are a little young for this, the stable even includes some extension activities to encourage 'guided' imaginative play.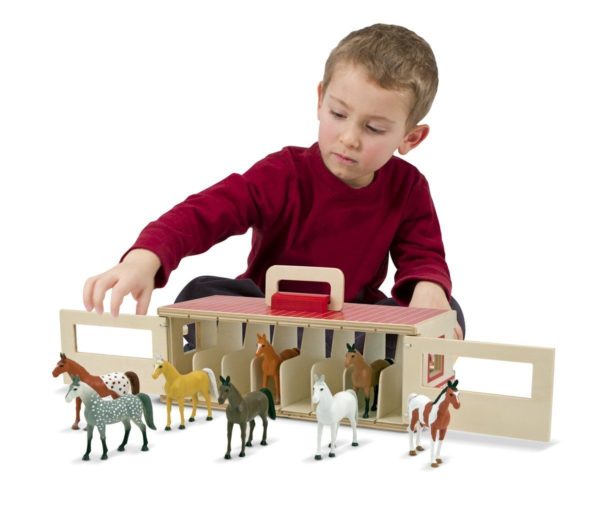 I want to point out that I bought this stable set with the intention of only my 18 month old daughter playing with it. I thought my 3 year old wouldn't take an interest. However, I was so wrong! He plays with this set daily. Anytime my 4 year old niece comes to visit, she sits down to play with it as well. Any toy that can stretch across multiple age groups is a win in my book! Though this doesn't look like a young toddler toy, I certainly appreciate that there are no small parts. No choking hazards means one less thing to worry about! (Melissa and Doug officially recommends this stable set for ages 3-7.)
The Melissa & Doug Take Along Show Horse Stable Set is currently $25 on Amazon.
BUY The Melissa & Doug Take Along Show Horse Stable Set HERE