Review: Playmobil 123 Countryside Set
If your kiddos love LEGO Duplos, you're all going to love Playmobil 123!
I first bought a Playmobil 123 set at a garage sale of all places… I don't think they knew the gem they had! These sturdy interactive building toys are made in Germany and offer timeless scenes and opportunities for imagination.
Playmobil comes in two varieties and countless themes. There is a line geared towards older kids that have more detailed and smaller pieces, and then there is the 123 line that is perfect for toddlers and preschoolers. They're full of bright colors, simple designs and things they love… like animals!
With a 1, 4 and 6 year old, Playmobil 123 is a constant hit for sibling play at our house! My oldest sets up scenes and chatters about the characters while her brothers play along with the pieces.
The countryside set is one of our favorites!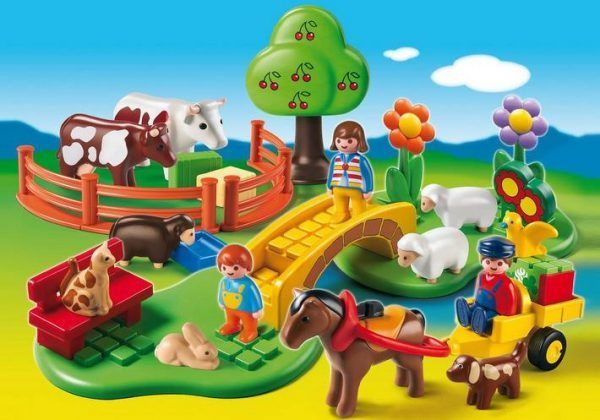 It prompts conversations about animals, friends, the park, and the weather. Perfect for little ones who are ready to grow their vocabulary and put their imaginations into action.
I love that Playmobil 123 can provide fun no matter where we go. The pieces are easily rinsed off. They're quality made (the pieces I got at the garage sale looked brand new!). And best of all, each set just expands what you already have. Adding more animals or a new car, a house or airplane just further the opportunities to play, imagine, laugh, and create!
Ranging in price from $5 to $50, there is something for every family hoping to grow their Playmobil 123 collection. In the near future I'll be adding some of the cute little people and their animal friends to Easter baskets!
BUY The Playmobil 123 sets HERE