Safety 1st Grow and Go EX Air 3-in-1 Car Seat
I'm sorry to start off this car seat chat with something negative, but, I will honestly admit, I'm a bucket seat (aka "infant car seat") hater. They just don't make sense. Convertible car seats are where it's at! One, bucket seats don't last kids for very long, perhaps a year at most? Two, you're not supposed to let your little ones stay in those seats for too long … no carrying it into the house when they fall asleep, or worse, balancing it on top of a shopping cart. No, no, no, not safe.
So, when a mama friend asks me my car seat recommendation, I always say, "Go convertible!" Investing in a seat that will fulfill your child's needs from 5 pounds to 100 pounds just makes sense!

When my 5 year old hopped into our Safety 1st Grow and Go EX Air 3-in-1 Car Seat for the first time she immediately told me, "Mom! It has cup holders! And, like, arm rests!" As awesome as those features are, I was more impressed with some other things.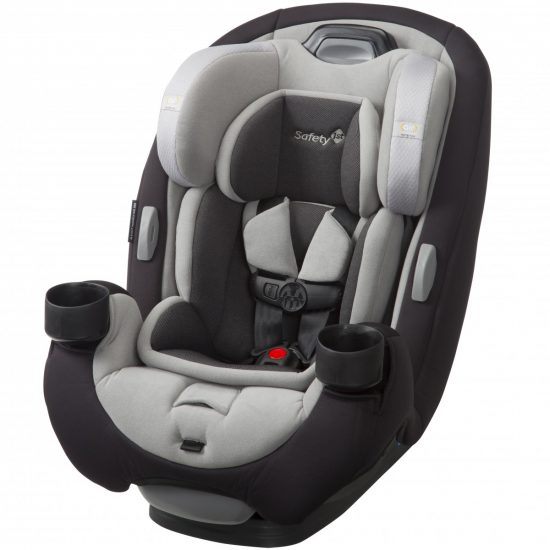 My favorites included:
Seat Weight – This car seat was an easy one for me to lift and install at just shy of 20 pounds.
Installation – The straps were easy to adjust to the proper height and I was able to quickly buckle and tether it into my car. There is also a position recline that allows you to get an accurate fit in a variety of vehicles.
Cleaning Ease – Car seats get messy and even though ours is brand new, I anticipate washing it sooner rather than later. The Safety 1st Grow and Go cover and padding all come off without a problem and are machine washable.
Side Impact Protection – Early this year we were in a car accident and the seats my kids were in did not have side impact protection. Now, it's something I always look for in a seat!
Air Protect – From Safety 1st website: "When compared to similar car seats without Air Protect, testing proves that seats with Air Protect are safer. In fact, the advanced cushioning system, developed with superior safety testing that exceeds government standards, makes this one of our safest seats on the market."
Harness Holders – The Safety 1st Grow and Go doesn't let the straps get buried behind your child, rather, the harness holders keep them in the open position until you're ready to buckle them in.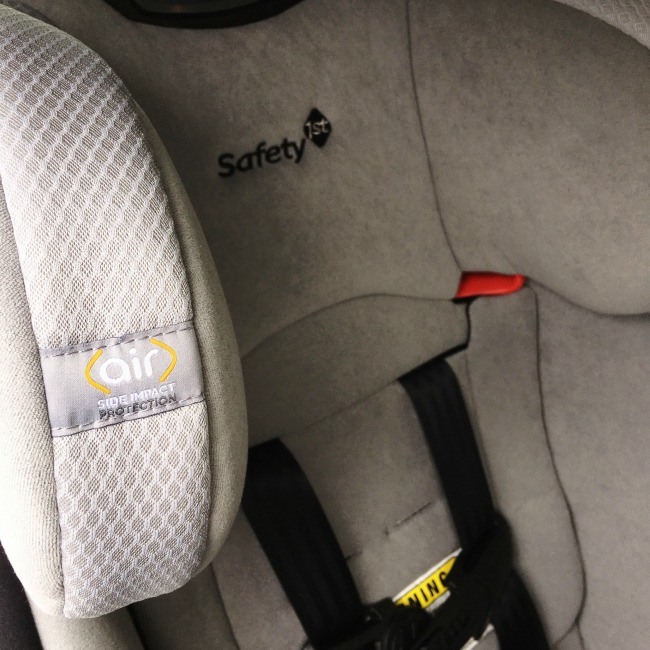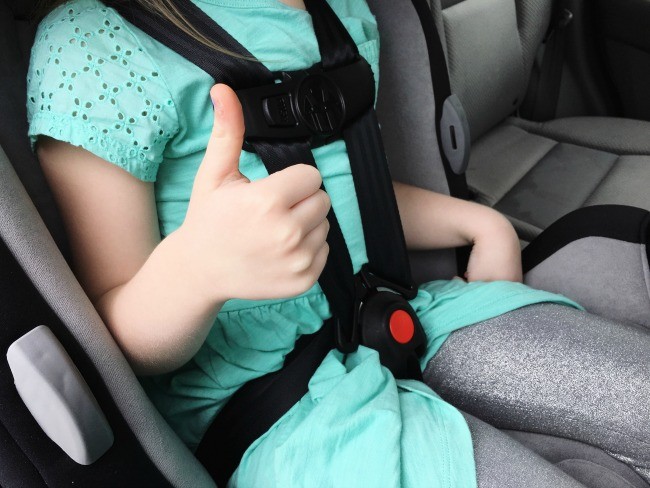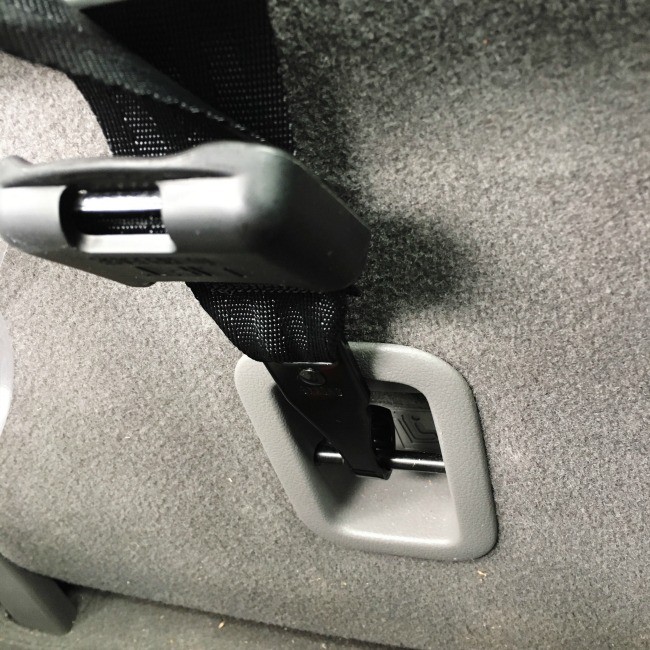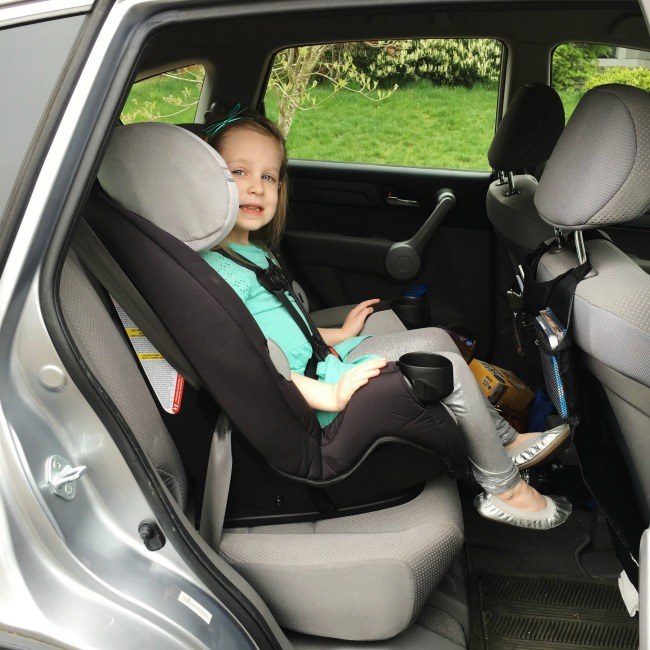 At my daughter's weight and height she falls into the middle mode of this car seat – forward facing. But, like I mentioned, this seat truly grows with your child from birth. With the Safety 1st Grow and Go EX Air 3-in-1 Car Seat you can:
Rear face from 5-50 pounds, 19-49 inches
Forward face from 22-65 pounds, 29-49 inches
Booster seat from 40-100 pounds, 43-52 inches
If you're in the market for a car seat, the Safety 1st Grow and Go EX Air 3-in-1 is one to consider! It has amazing features, exceeds Federal Safety Standards, and the price point is quite reasonable at $199.99.
NOTE: You may have noticed that there is a Safety 1st Grow and Go Air and a Safety 1st Grow EX Air (which is the one we reviewed!). The two seats are almost identical aside from ONE key feature. The Grow and Go Air offers extended rear-facing position from 5-40 lbs, and forward-facing up to 65 lbs. The Grow and Go EX Air offers extended use in rear-facing position from 5-50 lbs, and in forward-facing mode up to 65 lbs.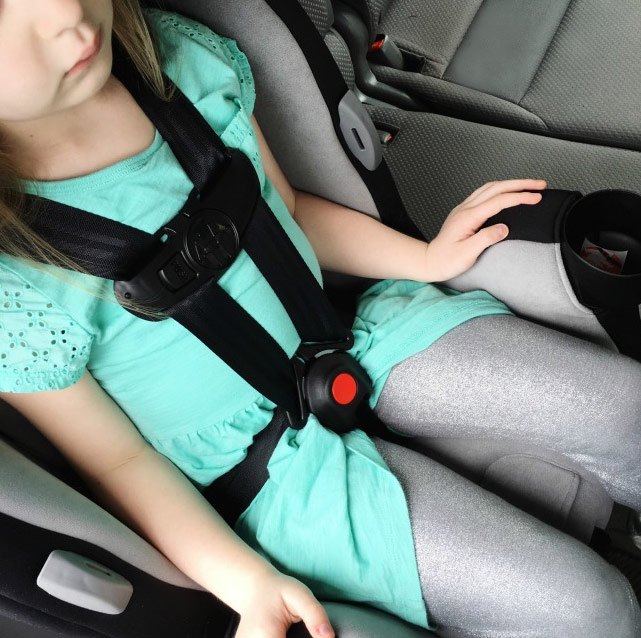 BUY The Safety 1st Grow and Go EX Air 3-in-1 Car Seat HERE