How to Save Money on Popular Children's Clothing Brands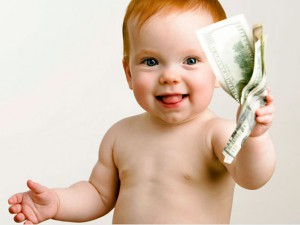 Children's clothes can be expensive, especially when kids grow out of them so quickly. Here are some tips for saving money on five popular children's clothing brands. Happy shopping!
babyGap/Gap Kids:
Use GapCash. You can earn and redeem GapCash during specific periods throughout the year. For every $50 you spend, you'll receive $25 worth of GapCash. That GapCash can later be redeemed for $25 off every $50 you spend. So if you spend $150 during an earning period, you'll receive $75 worth of GapCash that can be used later to get $75 off a $150 purchase. GapCash may be combined with other offers and discounts in Gap retail stores, but cannot be redeemed with any other promo codes or coupons at gap.com.
Avoid settling for less than 30 percent off. You may get excited when you log on to gap.com and see a promo code for 20% off your purchase. But unless your purchase is timely or you're afraid your item will sell out, don't be so quick to check out. Gap frequently has promo codes for 30 to 40 percent off a purchase, so you're better off checking the site daily and waiting to save a bigger percentage.
Become a "Bright Insider." Sign up for Gap's email list at gap.com and receive a welcome offer of 25% off your purchase, plus emails alerting you to sales and promotions.
Check your receipt. Your Gap receipt will often include a survey link through which you can answer a few questions online and receive 20% off an item in Gap stores.
Understand shipping costs. Gap.com offers free shipping on purchases of $50 or more. However, unlike at many online retailers, you'll get the free shipping on your pre-discount price. So if you put $50 worth of clothing in your cart and then enter a promo code for 30 percent off your purchase, you'll pay the discount price and still get the free shipping!

Carter's:
Use Carter's Rewards. During certain time periods, you can earn a $10 reward for every $40 or $50 you spend at Carter's stores. You can then redeem those rewards for $10 off a purchase of $10 or more in Carter's stores, starting the very next day, until the expiration date printed on the rewards.
Send Grandma and Grandpa to the store. Carter's has designated Wednesdays as "Grandparents Day" in all of their stores. All grandparents can save 10% off their entire in-store purchase on that day.
Scour coupon sites. Coupon sites such as retailmenot.com and coupons.com usually have coupon codes for online savings.
Sign up for emails. When you enter your email address at carters.com, you'll receive coupons and sale alerts via email.
Shop in-store. Carters.com charges $6 for flat-rate shipping, so buy clothing in a store if possible. Click here to find a location near you.
The Children's Place:
Gymboree:
Enroll in Gymboree Rewards. You'll earn one point for every dollar you spend at Gymboree, Gymboree Outlet, and gymboree.com. You'll then receive a $5 reward certificate for every 250 points you earn, plus members-only discounts. Click here to enroll.
Use Gymbucks. When you shop during certain time periods, you'll receive $25 worth of Gymbucks for every $50 you spend. You can later use the Gymbucks to receive $25 off a $50 purchase during redemption periods. (You can currently earn Gymbucks on purchases made through April 20, redeemable April 24 to May 4, 2014). Gymbucks are valid at Gymboree Outlet and on all sale merchandise—and there is no limit to how many you can redeem—so you can really save a ton of money when you use them! Note: Many Gymboree Play & Music locations distribute free Gymbucks to members, so ask about them at your location if you don't receive them.
Look for coupons in magazines. You can find Gymboree coupons for 20 percent off your entire purchase in most issues of Family Fun, Parents, and Scholastic Parent & Child magazines. Since subscription prices are very low, you should consider subscribing to one of these magazines—you could make your money back in one purchase at Gymboree and get some great reading material. For example, a Parents subscription currently costs only $7.99 for two years—an amazing deal!
Join the email list. Enter your email address at gymboree.com to receive coupons, sale alerts, and special offers via email.
Make smaller purchases in-store. Gymboree.com offers free shipping on all orders over $75 and has a larger selection than stores, so it's a great option when you're buying a lot. But if you need only one item or two, you're better off buying in-store and avoiding the shipping costs.
Hanna Andersson:
Sign up to receive catalogs. Click here to request a free Hanna Andersson catalog in the mail. The catalogs usually include unique codes on the back to receive a percentage off your purchase.

Join the email list. Enter your email address at hannaandersson.com to receive emails containing special offers.
Watch for sales. Hanna frequently has sales and promotions, so if you're not in a rush to buy items, keep your eye out for them and use those times to stock up.
Shop on secondhand sites. Even with sales and coupons, Hanna Andersson can be quite pricey. You can save money by buying new or like-new clothing on resale sites like thredUP.com or babyoutfitter.com. The high-quality brand lasts a very long time, so even gently used items should be in great shape.
Buy off season. Hanna will often sell off-season items on clearance for deep discounts. We're talking $28 tees for $10, or $66 dresses for $26. So check the clearance section of the site regularly and buy items for next season if you can!
Do you know any other many-saving secrets for children's clothing? Leave a comment and let us know!