School Cancels Mother's and Father's Day Celebrations
MOTHER'S DAY AND FATHER'S DAY ARE CANCELLED!
Okay, okay. That's not the whole story. Albert McMahon Elementary School in Mission, British Columbia (Canada) recently sent a letter to parents to let them know that the school's Grades 1 and 2 teachers were encouraging the inclusion of non-traditional families and asking families to celebrate Mother's and Father's Day at home. Parent Roy Glebe posted a photo of the letter to his Facebook page.
Here's the text of the school's letter: "As Mother's Day and Father's Day approach we have met as a Primary (Grade 1 and 2) team to discuss our core values. In an effort to celebrate diversity, inclusivity and also nurture our students who are part of non-traditional families, we have decided to encourage those celebrations to take place at home. Due to this, the children will not be making gifts at school to give on Mother's Day and Father's Day. We feel each family knows the best way to celebrate with their own family." It's signed "Thank you for understanding," but apparently, a lot of people don't because this is blowing up.
Personally, I'm squarely on the side of understanding. While my own family is of the traditional nuclear style, I know so many families who aren't: single parents, blended families, a family where one parent came out as transgender and has transitioned to living as their authentic gender, families with foster children, families with two parents of the same gender, families dealing with the loss of a parent, families who each adopted a sibling and work to get together as one family as often as they can, families in which a child is being raised by relatives, polyamorous families, and families dealing with trauma and abuse. There are so many families for whom a one-size-fits-all approach to cultural holidays doesn't really work.
I love so much that this school is making an effort to recognize the diversity of their students' families! And, frankly, I have a hard time understanding where being more inclusive and welcoming is a problem. This is especially true when dealing with six- to eight-year-old children who can have a hard time advocating for themselves and their needs.
However, not everyone agrees with my take. On his Facebook page, Mr. Glebe had this to say, "Had to post this. I think disapointed is an understatement. This will be the first year that we don't get gifts crafted with love from our kids, and since we only have one little one now it makes it all that much worse. I dont understand why we, as Canadians, need to give up our traditions that have been passed through generations. I welcome all races and ethnicities, but forcing us to give up things that are important to us as Canadians is crap. And it doesnt even have anything to do with religion? You cant celebrate your Mom and Dad?"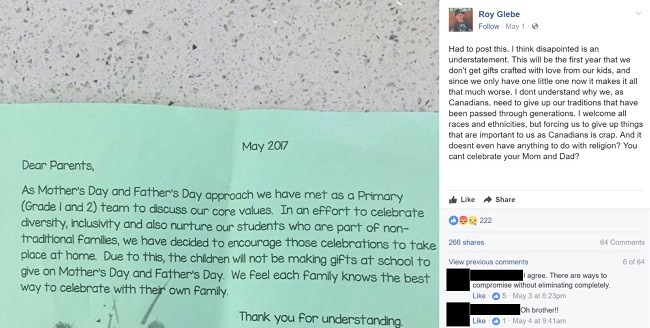 First of all, your child can craft a gift at home with the support of the co-parent (or another friend or family member) not being celebrated. It's not like the school holds a monopoly on art supplies or macaroni noodles.
Second, there is more to this story than is stated in the letter. Would you believe that the decision to encourage families to celebrate a family holiday at home appears to be completely unrelated to race, ethnicity, religion, or an attack on tradition? Yeah. It came about because a student at the school had recently experienced a traumatic event related to their parents.
So props to Albert McMahon Elementary School for working to create an environment in which this student can begin to deal with and heal from their trauma and opposed to being singled out or reminded of it. Thank you to the parents in the community who have been understanding. And thank you to all who support educational settings that are as inclusive and welcoming of all as they can be.
(PS, Mother's Day is still on. Sunday, May 14th for those who may have missed all the commercials touting gifts for mom. If you still need gift ideas, here are some fun ones. Handcrafted, of course. Father's Day is coming up on June 18 for you early planners.)