See Your Child's Art and Writing in Print!
Want to see your child's writing and artwork in print? Encourage his or her teacher to order a free student publishing kit from School Mate Publishing.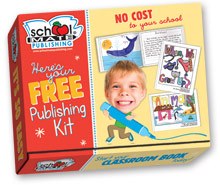 Through this wonderful program, teachers of grade 5 and lower can have each of their students create two pages of art and/or writing about a certain theme or topic. Teachers can then follow a few simple steps to submit the students' work to School Mate Publishing. The company will compile the students' work and have it published in a full-color, professionally printed and bound classroom book.
The best part? The books are free to create, and teachers will receive a free copy for their classrooms! Parents and other family members can order copies of the book as keepsakes for $19.95 apiece.
I think this is such a great program for so many reasons. For one, it's a great teaching tool! It allows kids to practice their art and writing skills by taking part in a fun classroom project. It also gives kids a huge thrill to see their writing and artwork in the pages of a "real" book, just like the ones they see in bookstores and libraries. Finally, it's a great way for parents to preserve something their little ones created.
To find out more information about the student publishing program, your child's teacher can visit schoolmatepublishing.com.