Seven Things to Do to Get Ready for Spring Break
Thanks to AT&T for sponsoring this spring break preparation post.
Spring break is only a few weeks off for us so it's time to get planning. I'm one of those type-A parents who likes to have a plan in place for where we are going, when and what we are taking with us. Sure, sometimes we fly by the seat of our pants, but for the most part, I like to have a plan. When traveling with kids of any age, pre-planning goes a long way for having a successful family spring break trip.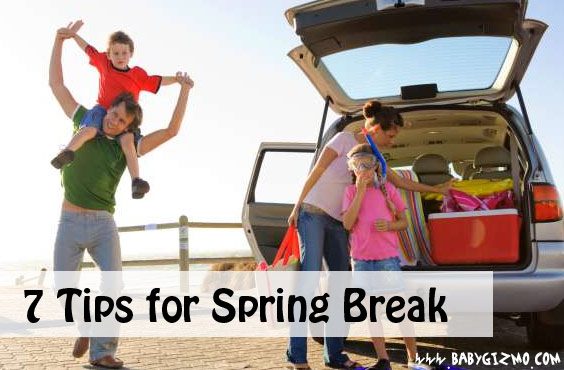 1) Destination Discussion: If you are last minute spring break planners, sit down as a family and collectively decide on a destination. I always say that parents get the final (and most important!) vote but it's always nice to take into consideration where the kids would like to go. If they are school-age, they will probably have an opinion and will feel good that you are at least listening to their ideas.
2) Save Money on Souvenirs: If you are going to a theme park consider grabbing some "souvenirs" ahead of time. Popular kid requested souvenirs such as character shirts, water bottle fans, after dark light up toys (swords, necklaces, bracelets, wands etc) and stuffed animals can be purchased for a fraction of the price online or in any convenient big box stores (such as the local grocery or pharmacy) before you step foot in the park. When your child begs for those light-up necklaces that are everywhere at the evening parade, be a step ahead by pulling out pre-purchased "souvenirs" from your bag.
3) Stock up on Snacks: Speaking of saving money – make sure to stock up on snacks before you go. Being prepared with plenty of snacks for the kids not only may avoid a few "I'm starving meltdowns" but will also keep you from dropping a mint on the over-priced snacks in airports and amusement parks.
4) Packing Must-Haves: Besides your usual packing list, make sure you include these must-haves…
Bring bright colored clothing and/or shoes for the kids to busy destination spots so that you can easily pick them out in a crowd.
Buy a small backpack or messenger bag for each child to carry their own travel must-haves such as snacks, small toys, electronics, headphones and books.
Pillows that do double duty as a blanket, nightlight or bag.
Plenty of activities for the kids to do on the travel days. Whether it is a smart device or travel-size games for kids, just make sure you have things for them to do. FACT: Busy kids tend to whine less.
5) Protect your Smart Devices – If you are anything like me, you will have all your smart devices packed and ready to go for Spring Break. Smartphones and tablets keep kids of any age busy and quiet during travel times. They are at the top of our travel packing lists no matter where we are headed. Even those parents who try to limit screen and device time with kids on an everyday basis, breakdown and find themselves handing their devices over to their young kids throughout traveling whether it is by plane, train or automobile. Since those devices aren't cheap, and I'm sure you don't want to be adding the cost of a replacement to your vacation budget due to an accidental drop such as in the pool (yes, it happened to me – twice!), making sure you have insurance on your smart device  is a great idea. I'm sure you think it will never happen to you (if it hasn't already) but I'm sure that is what the millions of people with device loss, theft or damage each year said as well.
I know what you are saying, "I've had my phone/tablet for a while now, and I didn't add the additional insurance at time of purchase."
Well, I have good news for you if you are with AT&T. They have a device protection open enrollment offer that ends March 31 (just in time for Spring Break) for customers with eligible devices. Usually, you would only have 30 days after activating or upgrading your device to sign up for AT&T device protection programs.  But, AT&T is now offering open enrollment until March 31, 2015 for customers who want insurance for their eligible phone or tablet, even if they've had it more than 30 days! Here's the lowdown:
The available AT&T programs have several device protection options for eligible devices, some with additional benefits beyond mobile insurance:
AT&T Mobile Insurance: Includes coverage for loss, theft, accidental damage and out-of-warranty malfunctions for an eligible phone or tablet.*
AT&T Mobile Protection Pack (MPP): MPP includes AT&T Mobile Insurance plus access to technical assistance with enhanced support.** The Mobile Locate app is also included and lets you lock and erase a lost device, secure content and more.***
AT&T Multi-Device Protection Pack (MDPP): This program provides protection and support for up to three eligible devices, including smartphones, tablets (Wi-Fi and cellular), and laptops.
To enroll before March 31, go to att.com/getcovered.
6) Have a Plan (and make sure everyone knows it!) – Before you even leave the house, have a family meeting and let everyone know the plan and what is expected of them during the vacation. Let the toddlers know that it will be a tantrum-free vacation (yeah, right!!), and let the other kids know where you are going, what you are doing and you'd prefer that there would be no fighting or whining during the trip. A mom can dream, right?!
7) Have fun. Just like any family trip, spring break can be stressful if you don't relax and live in the moment. Consider "unplugging" during your trip and only using your smart phone for fun and forgetting about work emails so that you can focus on having a great time with the family. If you need a good laugh to help you relax before you leave, check out Our Travel with Kids Wish List vs Reality.
If you want to be super prepared, here are some additional Baby Gizmo tips for traveling with kids:
10 Tips on Flying with Young Children
What to Pack for a Beach Getaway with Kids
Traveling with Kids Safety Tips
How to Keep Your Sanity when Flying with Little Ones
How to Make Car Rides and Road Trips Successful with Little Ones
Cool Traveling Gear for Cool Kids
Disclosure: Thanks to AT&T for sponsoring this spring break preparation article. As always, all thoughts, opinions and statements are our own. 
*AT&T Mobile Insurance requires eligible device on an AT&T wireless plan (excludes GoPhone®). You can cancel any time. Claim limits, deductibles and other coverage restrictions apply. All applicable taxes and surcharges extra. For complete terms and conditions, as well as a list of eligible devices and deductibles, visit att.com/mobile insurance.
**MPP includes AT&T Mobile Insurance, Enhanced Support, and Mobile Locate App. You can cancel any time. Mobile Locate App requires a compatible device with AT&T wireless service. Certain features, such as alarm and lock, are not available on all devices. A free version of the app with limited features is also available for download on compatible devices. Additional restrictions apply. All applicable taxes and surcharges extra. For more details and complete terms and conditions, visitatt.com/mpp.
***MDPP includes Multi-Device Insurance, Multi-Device Enhanced Support, and Mobile Locate App. You can cancel at any time.  Multi-Device Insurance covers up to 3 eligible devices, and the primary enrolled device must be on an AT&T post-paid wireless plan. Wi-Fi laptops and tablets must have Windows Vista, OS X, Android or iOS or newer operating systems in order to be eligible. Additional restrictions apply.  All applicable taxes and surcharges extra. For more details and complete terms and conditions, visit att.com/mdpp.