I personally think we should all rock our "mom bod" no matter what growing and birthing human beings has done to us. But man is this hard to do! We love our kids and they are worth everything we've given but there's no denying that relearning to love our postpartum bodies is a struggle 99% of mothers face. And that's a struggle that I can't tell you how long it will last. For some women, they recognize their goddess status as soon as they finish birthing their bowling ball. For others, like me, it takes years to acknowledge, then accept, then appreciate all the changes. Recently, I discovered something that helped me get my sexy (and fitness) back and I want to share it with the mommy world!
Three words: The Fitness Marshall.
Run to his YouTube channel right now. Beware: you'll probably get sucked into a rabbit hole because his videos are addicting and you'll want to start working out right now.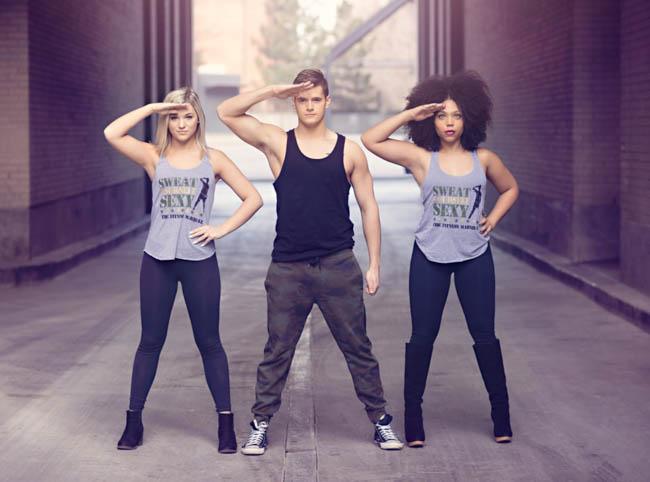 The Fitness Marshall is an at-home workout channel run by a man named Caleb Marshall and his beautiful "backup booty" dancers. His channel is full of fun cardio, dance-like workouts to today's hottest songs. Which is cool, because after using the same favorite videos multiple times, I now hear a hit song on the radio while running errands and find myself dancing the routine in the car as I drive! Which my toddler loves and she starts singing and dancing along with me!
If at-home workouts aren't your thing, I'd still recommend watching his stuff for entertainment because he's freaking funny. But I bet you won't be able to watch very many videos before you just have to jump up and start movin' your beautiful mom bod with him.
When I was a kid, I remember my mom doing at-home video workouts with Richard Simmons. You might remember that guy—does "Sweatin' to the Oldies" ring any bells? Well, I like to say that The Fitness Marshall is today's Richard Simmons. Caleb is just as sassy, energetic, silly, and effective in helping you lose weight. And what he's best at is making you feel sexy and confident, regardless of your fitness level or dance skill. Because even with my background in dance, I'm not claiming to be able to move like he does. In fact, I video taped myself once to see if I looked as sexy as I felt. I… did not. But that's okay! Because I feel confident and sexy doing his videos and I'm losing weight while having fun, and that is more important that how silly I might look.
Take his "Cake" video, for example. Watch it HERE and then tell me you didn't laugh out loud at least once or twice!
Working out and getting fit is not something most of us enjoy naturally. So it really helps when a guy like Caleb comes along and makes you laugh but also yells encouraging things like, "Move your sexy body!" and uses dance moves that do make you feel sexy on some level! The more you dance to his videos, the more you listen to his encouragements, the more you'll believe him and feel yourself returning to the sassy, bold person you were before babies changed your body.
If you're willing to give The Fitness Marshall and his Backup Booty's an honest shot, if you're willing to let yourself be silly and forgive yourself if you can't get some of his faster moves down right away, then here are some of my favorites I suggest you try: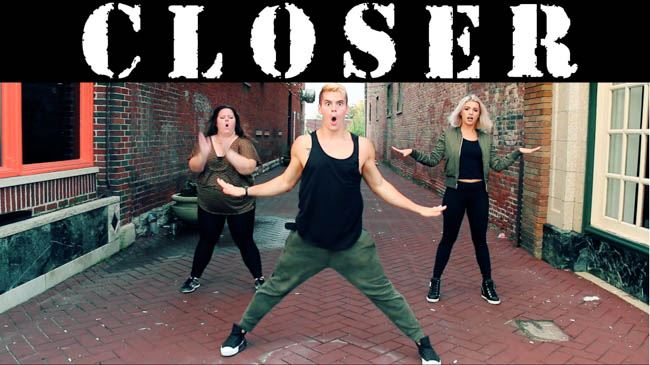 The Chainsmokers–"Closer"
Rae Sremmurd–"Black Beatles"
Usher–"Yeah"
Meghan Trainor–"Me Too"
Ed Sheeran–"Shape of You"
Fergie–"London Bridge" (Side note about this one: There's a more difficult move in this workout where you drop down and come up really fast. When I first started FM, I could NOT do that move. After a while of consistently using his work outs, one day I just realized, "Hey! I can do that move now!" It was really cool to see progress like that. You can see progress like this, too!)
Jason Derulo–"Swalla"
Zedd Featuring Alessia Cara–"Stay"
Sia–"Move Your Body"
Sia–"Cheap Thrills"
SoMo–"Ride" (This is a good cool down song. And because you'll feel so sexy, it's a great one to adapt into a lap dance/strip tease dance for your man…just sayin'! He will love your newfound confidence!)
The Fitness Marshall was started in October 2014 and has grown so popular that they now tour and bring the party to (some of) your cities for "cardio concerts." To see their tour schedules and learn more about them, visit their website at thefitnessmarshall.org.
And once you've become addicted to their uplifting workouts, leave us a comment sharing which videos are your favorites so we can add them to our workout routines!