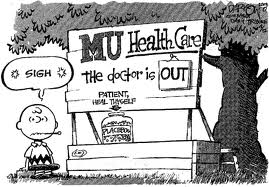 "There are growing numbers of college-educated parents, who are talking to their pediatricians about whether there is adequate scientific evidence to support the safety of giving children three times as many vaccinations as they use to get," said Barbara Loe Fisher, co-founder and president of the National Vaccine Information Center. "Rather than engaging them in a constructive conversation, too many pediatricians are simply slamming the door and denying medical care to children when educated parents ask too many questions or want other options."
Despite recommendations of the American Academy of Pediatrics (AAP) and the American Medical Association (AMA) urging doctors to maintain relationships with patients and provide medical care to families, more and more pediatricians are "firing" parents who refuse, delay or alter the vaccine schedule for their children, telling them to seek treatment elsewhere.
AAP policy states, "Families with doubts about immunization should still have access to good medical care, and maintaining the relationship in the face of disagreement conveys respect and at the same time allows the child access to medical care."
A national survey published in Pediatrics in 2010 concluded that "more than 1 in 10 parents of young children use an alternative vaccination schedule" and 22% have serious safety concerns about the vaccine schedule that doctors recommend.
A national poll by C.S. Mott Children's Hospital found that 9 in 10 parents rank vaccine and drug safety as their top priority for child health research.
A recent survey of 900 doctors conducted at Children's Mercy Hospitals and Clinics in Kansas City, Missouri, found that 21% of doctors stopped seeing patients, who refused vaccines or asked for alternative vaccination schedules. This past summer, the Chicago Tribune reported that doctors are refusing to treat unvaccinated children and described a letter eight doctors in a big pediatric practice sent to families informing them they would no longer see children, whose parents declined to follow the CDC-­recommended childhood vaccination schedule.
"In addition to families with healthy children, who want to make selective vaccine choices, there are lots of families, whose children have severe allergies or have experienced previous vaccine reactions, and want to reduce vaccine reaction risks," said Fisher. "When pediatricians threaten parents, families may stop seeking regular check-­‐ups and may end up not vaccinating at all instead of delaying or spacing out the vaccines."
American Medical Association (AMA) guidelines state that a doctor may refuse medical care only after giving the patient enough notice to find another physician. State rules vary, but doctors generally must document the behavior, inform the patient what the problem is, give him or her a chance to change and, finally, send a certified letter stating the relationship is over. However, they must continue to provide medical care, as needed, for an additional 30 days. The AAP has also published guidelinesfor pediatricians electing to dismiss families if they do not follow AAP and CDC vaccination recommendations.
What do you think? Do physicians have the right to choice who they want to treat? Do parents have the knowledge to make important medical decisions on behalf of their children?