Siliskins for Glass Baby Food Jars
Clean up in aisle 12!  That's what I heard in my head last summer as I was standing in the Walmart aisle with glass and baby food all over my flip-flop wearing feet.  Yeah, it wasn't one of my finer moments.  All three kids with me alone in Walmart.  I go digging for a toy in the diaper bag to keep the littlest one quiet and when I grab the toy in a hurry, somehow one of the glass baby food jars from the bottom comes flying out with it.  I couldn't catch it and watched it crash to the floor in slow motion about 2 inches from my feet with glass and pureed carrots spraying everywhere.
Why am I telling you this?  Because Silikids just came out with a great product which could have made that day a little better!  Siliskin for baby food jars!  It's a thick skin for those delicate baby food jars that like to shatter when dropped.  These BPA-free silicone sleeves are designed for glass baby food jars to keep them safe from damage or from banging around in the diaper bag.  And what's better yet is that these sleeves are microwave and dishwasher-safe.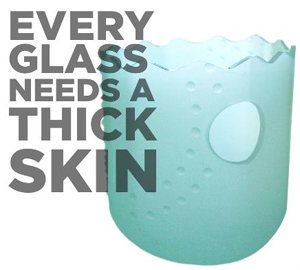 I could have really used a couple of these siliskin baby food sleeves last summer!  Maybe it would have prevented me from trying to wipe off carrots mixed with glass off my bare feet while my three kids are wreaking havoc in Walmart?  Or maybe not?  But I'd like to think the pureed carrots on the bare feet wouldn't have happened.  The wreaking havoc part?  These siliskins don't perform miracles!
The silikids siliskin for baby food jars sells in 2 packs for $4.95.