I swore I would never be one of those moms.  You see them at 3am in front of Toys-R-Us; sweaty, red-faced, hair in a mess.  They have a wild look in their eyes, daring anyone who is brave enough to try and cut ahead of them in line.  Sadly enough, last year on Black Friday I was among the hoards of sleep deprived mothers wrestling for the year's hottest toy – the Zhu Zhu Pet.  
I look back and think how dumb that was.  I mean, come on – a robotic hamster that scurries around and squeaks?  Don't we have mouse traps for things like that?  Alas, I got swept up in the craze and became determined that Christmas of 2009 would not be complete without one.  Who would have imagined that of all the toy choices consumers  had last year, we would inevitably choose to make a furry little rodent the "it toy" of the season?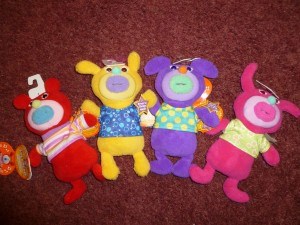 Who can ever really predict what toy will hit gold with kids everywhere and be crowned the must-have-it purchase of the season?  This year, experts are placing their bets on the Sing-a-ma-jigs.  These plush little guys from the great people over at Mattel can't really be lumped into the stuffed animal genre since they aren't an animal at all.  In fact, the closest word I was able to come up with for them was "being". 
 Hoping to beat the Christmas rush, I scoured all of the local stores and was able to come away with 4 of these little screechers.  I really only intended to buy 2 but once you see them, you just can't resist.   Luckily, my local Toys-R-Us had 6 colors in stock and still had a couple of each one for me to try out.   Naturally, I wanted to see what each color sounded like, so I proceeded to test them all out right there in the middle of the isle.  30 minutes later, I was giggling like a lunatic and eliciting sympathetic stares from other shoppers who were trying to figure out how the mental patient was allowed out by herself.  Seriously – these little things are addicting! 
Every one of the brightly colored Sing-a-ma-jigs has their own personal style,  from the red one who belts out "Oh Where Oh Where" in an operatic soprano,  to the purple one who booms out a commendable rendition of "Clementine" in a deep base.  Their scrunchy (think 80's hair accessory) shaped mouths form a perfect circle when you push on their tummy and they sing their little hearts out!  Perhaps the most hilarious part of this is that they come complete with teeth and a tiny pink tongue.  Each one has three modes of play and can easily be switched by pressing their hand.  Sing-a-ma-jigs can sing individual notes, chatter in meaningless jibber-jabber, or croon an entire song one note at a time. 
While they are great on their own, perhaps the greatest (and funniest) thing about them is that they harmonize!  Just get more than one of them together and you've got an entire Sing-a-ma-jig party!  Be prepared to buy more than one since the real fun is hearing them perform as an interactive group. 
Sing-a-ma-jigs are recommended for children three and older.  While their compact 9-inch size may seem ideal for younger kids, they do have some very small parts that could pose a choking hazard if swallowed.  Each Sing-a-ma-jig comes complete and ready for fun with 2 AAA batteries that can easily be replaced if needed.  Just open the velcro closure on the back.  While I suspect the batteries would last awhile, my yellow Sing-a-ma-jig must have had a hard shelf life already since his voice had dropped a couple of octaves since I purchased him and his version of "This Little Light" didn't sound so bright anymore. 
It is important to note that once the batteries start getting low, the harmonizing gets out of whack and they start sounding a like they've had a little too much to drink.  They do have an automatic "off" feature that shuts them down after about 12-15 seconds without use.  However, some people may find this feature annoying since each one audibly lets you know they are turning off with a "bye-bye!" or a "so-long!" 
Wanting the entire set, I went home and jumped online hoping to snag a couple more.  Most of the stores who even advertised them were completely sold out.  This leads me to believe that they are definitely going to be scarce this holiday season.  If your children decide Christmas won't be complete without an entire ensemble of these little crooners, you'd better get them while you still can.   They just may turn out to be this season's hottest toy!
– Contributed by Veronika