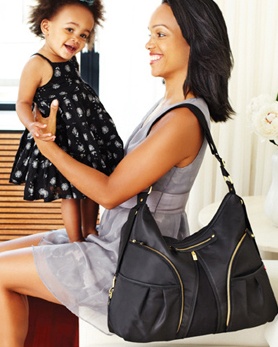 Babies travel with A LOT of stuff!  Bottles, binkies, diapers, wipes, burp clothes, toys, snacks, and the list goes on and on!  And we carry all this in our diaper bags.  Going out for a quick errand, you may not need as much stuff.  Going out for the day?  You'll need loads of baby essentials!  Don't you wish your diaper bag expanded to accommodate those days where you need to tote around more stuff than usual?
Enter the Skip Hop Versa!
The Versa is Skip Hop's brand new, chic diaper bag that is large by itself yet with a quick zip down the center it provides over 20% more storage capacity!  Too fabulous, right?  But is it one of those garish diaper bags that make us look less than fashionable, you ask?  Absolutely not!  The Versa keeps you chic and trendy from the minute you through it over your shoulder. 
The outside of the Versa sports two insulated front pockets for bottles, sippies and/or snacks.  The inside is stocked with pockets including 9 pockets to organize everything from diapers to toys to clothes!  Plus, we LOVE the contrasting lining to make it easy to find what you need.  No more black hole in your diaper bag!! And that's not all!  It has stroller straps, a water-resistant lining and a cushioned changing pad.  It's BPA-Free, PVC-Free, Phthalate-Free.  All that sounds expensive, right?  Nope.  It retails for a very reasonable $70. 
The Versa comes in three colors:  Black, Cream Links, and Rose Flower.
SHOP Skip Hop Versa Diaper Bag