With my first baby I bought a mid-range standard high chair. I chose it because it had fun features like a storage basket, and toy bar. I had visions of a sweet baby happily playing with organized bibs & burp cloths underneath as I cooked dinner. Little did I know that both would end up being nothing more than crumb catchers, and just something else I had to clean! Not to mention that it had a ridiculously huge foot print. Even with the casters it was a hassle to clean the floor beneath. After the second child my high chair became part of the baby gear relocation program (aka Craigslist). When my third was born I was determined to find a more practical (and much cheaper) alternative.
Hook On Chairs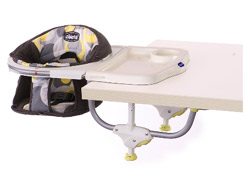 These are my personal favorite. They are up out of the way, and the baby sits next to the table just like all the other family members. I have the Chicco 360 Rotating Hook On High Chair (MSRP $70). I love that it has a tray to protect my table top. The seat itself spins so my baby can watch me cook dinner, or watch my older kids play in the back yard. Either way makes for that happily entertained baby I mentioned earlier. Also, being able to rotate the baby towards my chair makes feedings less award than if it only faced forward. The chair is easy to attach and detach from my table, and even has a carrying case for travel. It folds flat enough to fit in my rolling luggage bag. I'll never be at grandma's without a high chair again!
Although hook on chairs fit most tables they aren't appropriate for glass top tables, bar counters, or attached to a leaf in a large table. Be sure to keep the receipt just in case you cannot get it to properly attach to your table. Also, your baby needs to be at least 6 months old to use it as they have to be pretty much sitting on their own. I just used the swing, or bouncy seat to feed my baby before she was able to use the chair. The maximum weight limit is 37 pounds which is about the size of my 3.5 year old.
Chicco, Phil & Teds, Inglesina, and Joovy all manufacture several different models of hook on chairs. So if the first one doesn't fit, don't give up. There is almost sure to be an option that will work with your table. Each of these companies has built a strong reputation as makers of popular strollers, and maintains high safety standards for their products.
Booster Seats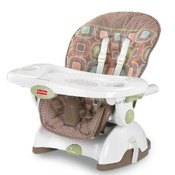 These are seats that strap directly to your dining room chair. The main advantage is a seat like Fisher Price's Space Saving High Chair (available in several different patterns) gives you all the amenities of a standard high chair without taking up so much room. They recline for infants, have dishwasher safe trays , and becomes a toddler booster seat. The problem I see is that there are lots of nooks and crannies for jam and crumbs to get stuck making for a yucky clean up time. Also, an older baby or toddler can push off the table with his feet tipping the chair backwards. Be careful to always use the tray, and keep it a safe distance from the table. At round $50 they are a bargain compared to traditional high chairs, but offer all the features.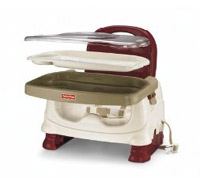 I prefer the more simple plastic models like the Fisher Price Healthy Care Booster Seat. It is a breeze to clean as there are no crevices, and the dishwasher safe tray has a lit to keep it clean when not in use. There is no recline for infants, and the minimum age is about 6 months. They do however easily fit in the trunk of a car for trips to a friend's house for dinner. They also easily detach from the chair so your little one can snack in the living room or playroom if needed. At around $25 to $40 these are a great option for parents on a budget. Fisher Price, Graco, First Years, Summer Infant, and Prince Lionheart all make these in various colors, textures, and with different features. Some even come with toys. Those with trays are appropriate for six months up, and those without trays are probably better suited for bigger toddlers.
Kaboost Portable Chair Booster
This is an awesome little gizmo that brings the seat of the chair closer to the table. It fits on the bottom of most chairs, and has two different heights. I love it because there is no extra seat to clean, and children feel more grown up sitting without a booster seat. It does elevate the chair so you want to be sure your child is mature enough to sit in a chair without falling out. I wouldn't recommend this for children younger than 2.5 or 3.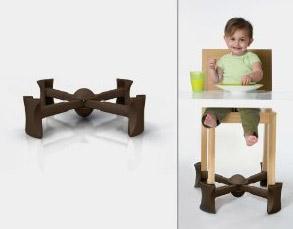 If you want to add a harness for extra safety or to use the Kaboost with younger kids Phil & Teds makes a neat product called a Wriggle Wrapper. It is a soft wrap that goes on your baby like a diaper, and attaches to a chair with straps. This will keep your little wiggle worm safely attached to his seat. It folds very small for travel, is machine washable, and can be used for safe sleeping on twin beds in a pinch.
At around $90 for both it is the most expensive option, but it may be worth it to you not to have the aesthetic of your dining room cluttered with a busy primary colored booster chair. Additionally these products are the easiest to get on and off a dinning chair. This makes it great for frequent travelers or to send with your child to an in home daycare situation.