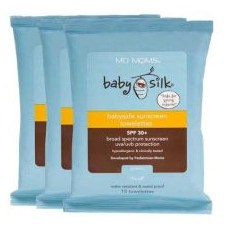 With summer fast approaching, sun protection is top of mind for most parents.
We thought we would pass along a special offer from MD Moms, makers of Baby Silk, the first personal care line for babies developed by pediatrician-moms.
From now through Memorial Day, MD Moms is offering 3 packs of its 15-count award-winning sunscreen towelettes for $60 (a $78 retail value). This very special offer is only available while supplies last on mdmoms.com, diapers.com and drugstore.com.