It's time for Valentines Day treats! It's always fun to make a holiday as special as it can be for your kids. Their little faces just light up at the slightest effort you give for making their day special and fun. It could be a special breakfast, perhaps just a note and a special cookie in their lunch box or a full fledged traditional meal with balloons just for them.
I prefer to sprinkle the fun throughout the day starting with breakfast and ending the day with dessert and each time the comments of praise and smiles I get are enough to make me know they appreciate it. Here's a favorite breakfast recipe that I make every year on Valentine's Day and a few other ideas to help make your day special too!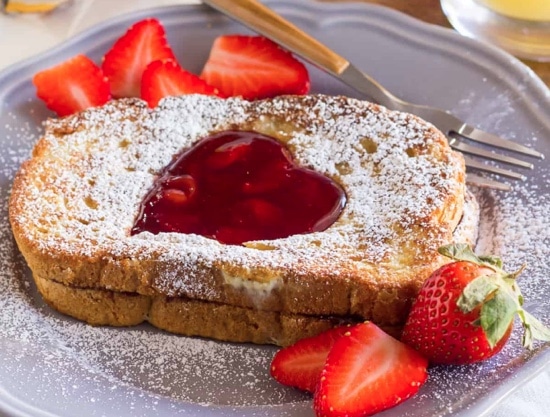 Valentine's Day Stuffed French Toast –– This recipe by Flippin Delicious is my inspiration for my french toast. For this I use a Panini Press but if you don't have one, you can just use a regular griddle or skillet. Make your french toast batter how you typically would make it but only dip the "toast" on one side of each piece of bread. First lay down one piece, egg side down in the pan or press and then spread cream cheese on the side that has no batter and stack with sliced strawberries. Then do the same to the other piece, stacking it like a sandwich in the pan or press. Flip carefully once done on the one side. Grill on the other side. I use a large heart shaped cookie cutter to then cut the "toast" into shapes and then sprinkle with a little powdered sugar. Then serve to your very deserving Valentines!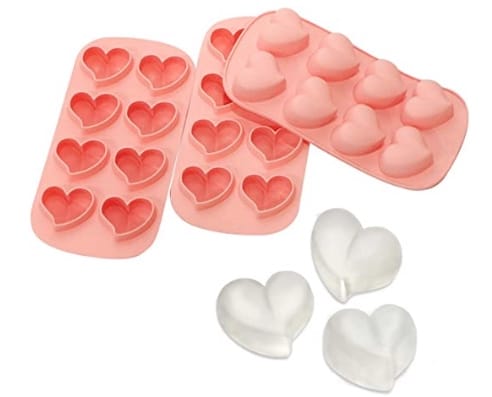 Heart shaped ice cubes — Amazon, Target and the Dollar Store both have heart shaped ice cube trays in stock right now and it's an easy way to add some fun to the otherwise mundane dinner table. Just freeze and serve…what could be easier than that?!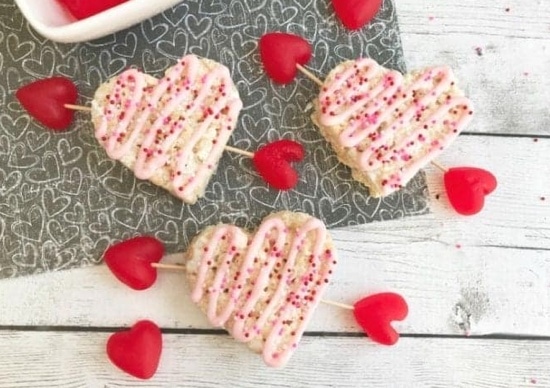 Valentine's Rice Krispie Treats — Another easy treat that kids (and you!) will love is to add Valentine's Day colored M&Ms to your Rice Krispie treats. Cut into themed shapes with cookie cutters to serve.
Pretty much if you keep your heart shaped cookie cutter around all day, you'll be able to use it at any meal to make their day special and full of love!
How do you celebrate Valentine's Day with your kids?
Looking for Valentine's Day cookie recipes? We got you. Valentines Day Cookie Recipes