Baby Jogger has been providing active moms and dads with strollers for more than 26 years.  The Baby Jogger Company was born in 1984 when Phil Baechler created the first jogging stroller, making his jogs with his infant son easier and more enjoyable.
The Baby Jogger City Mini Double is the same City Mini that we love but twice the fun!

This side-by-side double has an easy, compact fold and a rather lightweight frame.  It has the quality that we've come to expect from Baby Jogger and is great for travel and everyday use with two children.
The City Mini Double weighs in at a very reasonable 27 lbs.  And, yes, this is the true weight.  We weighed it!  Set on a quality aluminum frame with the one of the fastest and easiest folds around and features for mom and baby alike, the City Mini Double is one of the best lightweight, double strollers around.  It is 29" wide so not to worry it will glide through your standard doorway.
The City Mini Double sports two roomy seats with a combined weight capacity of 100 lbs!  That is two 5 year olds!  Each seat is 12" wide with a 19 1/2" seatback and measurement of 26" from seatback to canopy.  Our taller 5 year old tester at 43" fit in the seat without her head even hitting the canopy.  Each seat has an excellent 5-point, padded harness that is easy to adjust to fit snugly on a small child yet big enough with room to grow for a larger child.
The City Mini Double seats have an almost flat (150 degree) recline that is easy to recline with a strap system.  When reclined, the seats are well ventilated with a large mesh window to allow air to flow through, and a drop down weather cover allows you to close the mesh back when the weather is cool or rainy.  This feature is fantastic in warmer weather!
Let's talk canopies!!!  The City Mini Double has two individual, GIGANTIC canopies, and believe it or not, they actually shade your child completely from the sun.  The canopies are almost twice the size of other stroller canopies on the market!  Plus, the canopies have 2 peek-a-boo windows.  They are that big!   We can't say enough how much we LOVE these canopies!
There is a taller handlebar (it's not adjustable though) that measures 41" from ground to handle.  We did find that the handlebar still keeps our taller parents a bit closer to the rear wheels than they would prefer.  Our taller dads found themselves kicking the back of the frame more than once while strolling with the City Mini Double.  So, we suggest if you are over 6'0, you might want to test it first.
Underneath the seat is a large basket (that they made larger for the 2010 model!) that has convenient side access for smaller items.  Yes, the basket is very large but the problem is that you won't be getting anything of size (let's say even a small diaper bag) in or out of the basket with children in the seats.  While it is impossible to get a diaper bag in the basket with fully reclined seats, even with upright seats it is still a problem.  The access to the basket just isn't that good for larger items!
The City Mini Double has four 8-inch wheels and a suspension system that gives your little riders a pretty smooth ride.  The maneuverability on this stroller is fabulous. It turns on a dime, is easy to push and can even be controlled with one hand. If you have two 5 year olds in it at near weight capacity, it is of course going to take two hands to turn, but with smaller children, it's no problem.  Knowing that it's not meant to be an all-terrain stroller, we did find that it can handle bumpy roads, brick streets and small rocks but it might provide a bumpy ride for baby.  The front wheels even lock straight to help tackle that bit of all-terrain a little easier.
Our favorite feature besides the canopies is the easy fold (patented "Quick-Fold" technology).  Is it a one handed fold like the City Mini Single?  Nope.  Two hands are needed for this fold and there is no getting around that!  Folding the City Mini Double is still super easy though! All you have to do is unsnap the two safety straps from the frame and pull up on both folding strap in the seat (they say "fold) and the stroller folds flat.  It's that easy!  And by flat, we mean it's only about 12 inches high when folded. The City Mini Double even has a standing fold!  It has a manual locking strap to keep the frame locked when transporting though we'd like to see an automatic lock added for more convenience.  With its folded dimensions of 30.5″ x 29″ x 12″, this stroller is a compact package that is easy to transport and fits in even smallest trunks.
Another great feature of the City Mini Double is that with an additional adapter it accepts many infant car seats to make it a travel system.  It will only accept one infant seat at a time but the universal car seat adapter is designed to fit several car seats including, Peg Perego Primo Viaggio, Britax Companion, and most Graco and Evenflo models.  There is even a separate adapter to fit the hard-to-fit Chicco infant car seat!
There are many great accessories that are sold separately for the City Mini Double to fit everyone's needs including:  Rain/Wind Canopy, Bug Canopy, Footmuff, Belly Bar, Belly Bar Console, Child Tray, Parent Console, Car Seat Adapter and a Cup holder.
If you are looking for a lighter-weight side by side double stroller that maneuvers beautifully, easy to fold, has  fabulous sun canopies (one of the best), large and roomy seats, accepts an infant car seat and a sports a taller handle, the Baby Jogger City Mini Double is the stroller for you!!  To watch our full video review of the Baby Jogger City Mini Double, click the video below: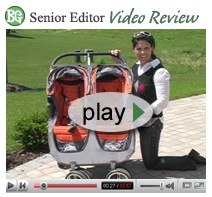 SHOP Baby Jogger City Mini Double at Joggingstroller.com
*Thanks to Joggingstroller.com for sending us the Baby Jogger City Mini Double for review!*