The Baby Jogger City Select is the newest addition to the very popular Baby Jogger stroller family. This luxury stroller has the quality that we've come to expect from Baby Jogger.
The City Select is a multi-functional stroller that gives parents the ability to mix and match seats, bassinets and car seats to make the stroller perfect for them. The City Select offers parents the unique opportunity to customize their stroller into more than 16 different combinations to suit their family needs. This versatile stroller can go from single for your first child to a double stroller when baby #2 comes along.  Then when you older child outgrows the stroller age, the City Select can go back to being a single.
Let's start with the seat!  Even though the seat appears small, it is actually quite roomy.  With a high weight capacity of 45 lbs per seat, we were able to easily fit our 5 year old tester.  The seat is 12" wide and has a short 18 1/2" seatback.  Not to worry though because Baby Jogger wanted the seat to accommodate older and taller children, so they made the canopy adjustable with 2 positions to grow with your child.  With the canopy in its lowest position, it has a 21" seatback to canopy height.  For the taller children, put the canopy on the top position for a roomy 24 inches from seatback to top of canopy.  At the top canopy position, our 5 year old tester fit comfortably without her head touching the canopy.
The seat sports a padded, adjustable, 5-point harness for safety, as well as, an adjustable footrest with 4 different positions.  The seat is reversible so that your child can face mom or out at the world and is adjustable so they can be up in a high position or down in a lower position.
Instead of just the back of the seat reclining like on other strollers, on the City Select the entire seat reclines back easily with a large, one-handed button. The seat keeps its wide "v" shape and has four recline positions including all the way back. The seat is recommended for 6+ months to 45 lbs. Not to worry though, you will still be able to use the City Select for your newborn using the bassinet and the car seat adapters that are sold separately.
The City Select has a huge basket underneath that is accessible from all different angles.  We were able to fit an extra large diaper bag plus other on-the-go baby essentials!  There is also a large, mesh storage pocket on the back of the seat for parent's essentials.  Note:  There is no baby or parent tray or cup holder on the City Select.  There is a child tray sold separately though.
To satisfy the shortest and tallest of moms and dads, it has a telescoping handle that eliminates the "stroller hunch".  The handle has three different positions ranging from 39"-42" from ground to handle height.  A nice feature of the handle is also that it has a wipe clean grip.
As always, we love the Baby Jogger canopies!  The City Select is no exception!  The sun canopy is quite large with three sections and is complete with peek-a-boo window with magnetic flap closure.  A great thing about the canopy is that it adjusts to create more headroom as your child grows.
The City Select sports two 12″ forever-air rear and two 8″ lightweight front wheels with front wheel suspension and sealed ball bearings to give your little rider a very smooth ride.  You won't worry about a flat with this stroller!  These heavy duty tires can charge through different terrain such as grass, playground mulch and cobblestone street.
We also love that the front swivel wheels also lock straight for rougher terrain.  There is also an easy to do hand operated parking brake that is conveniently located next to the main seat.
Baby Joggers are known for their easy folds.  The City Select is no exception!  It has a patented "Quick-Fold Technology" that allows you to fold your stroller in one simple step.  There are two handles on the sides of the main seat that you pull up on and the entire stroller folds in half easily.  You can even fold it with the second seat attached but it is a bulkier fold this way.  One of our minor complaints about the City Select is that it does NOT have a standing fold though.  This would be a great improvement!  There is a manual lock on the side to keep the stroller closed while transporting but we would suggest that Baby Jogger add an automatic lock to make it even better!
Weighing it 28 lbs (average weight for a full-size single), we didn't have too much trouble lifting it in and out of our trunks.  When you add the second seat, the stroller weight is 34 lbs which takes a bit more muscle if you fold it and lift it with both seats attached.  The seats are so easy to remove if you would like to lift less weight though.
The maneuverability on the City Select is fabulous.  As a single, the stroller glides along with very little effort and turns on a dime.  Even with the stroller fully loaded with a 45 lb rider, we had no problem maneuvering this stroller even one-handed.  When you add the second seat or bassinet, it takes a bit more wrist power because you are adding more weight.   We found it is easiest to maneuver with your larger child in the seat closest to mom.  In all the different seat/bassinet configurations, we found the maneuverability to be better than most.
The City Select is a very sturdy, well-constructed stroller.  It's heavy-duty and we definitely feel very confident in its ability to transport our most precious cargo.  When the stroller is in double mode, the stroller is constructed so well that either seat can be empty (with a child in the other) without compromising the stability.  Our testers could even climb into the front seat without any worry of the stroller flipping over.   
Now the main feature that we love is the stroller's ability to go from a single to a double. The City Select starts out as a single stroller but expands to a double by using Baby Jogger's unique patented attachment method and adding a second seat, bassinet or one of the adaptable car seats. So, there is no need to buy a single AND a double stroller!  Love that!
In order to turn the stroller into a double, a sold separately double conversion kit is required.  There are more than 16 unique seating combinations from double tiered car seats to a bassinet and a single seat.  No other stroller has that many seating combinations!  In order to do all the seating combos though, you would need the extra seat kit, 2 bassinets and 2 car seat adapters.  Or just pick the seating arrangements that work best for you and your kids and buy the coordinating accessories.
IMPORTANT NOTE: The double conversion kit pieces ONLY come with the second seat purchase! If you plan to use a bassinet with the toddler seat, 2 bassinets, infant car seat with toddler seat or 2 infant car seats – you MUST buy the second seat kit! You will need those adapters! At this time, Baby Jogger does not sell the adapters separately without the second seat! Bottom line: If you are going to use the City Select in doubles mode, you have to buy the second seat kit whether you think you are going to use that second seat right away or not. So factor in that expense when considering this stroller!
We love that we can move the seats around depending on our kids' moods.  Most tandem strollers usually cause fights with our little riders because of pulling hair or kicking seats – but not the City Select. When our kids are feeling friendly, we can put them one behind the other or even facing each other. Note: With older toddlers, facing each other never lasts long as one always "accidentally" kicks the other. When they are feeling feisty, we can put them back to back so they cannot possibly touch, kick or pull each other's hair. This is a great feature for those terrible 2s! With two seats both facing forward or backwards, we found that there was plenty of room between the seats but the rear rider can still kick the front seat.  Be careful putting your toddler behind the bassinet or car seat because if he is anything like our little tester, the baby may be bumped, kicked and jostled more than you want.
The seats can accommodate up to 45lbs a piece even in the double mode so that makes a 90 lb weight capacity!
Having twins?  We love that you can use 2 bassinet kits or 2 car seat adapters together for both babies!  When the twins hit 6 months, you can also use the two full-sized seats.
The Baby Jogger City Select is a luxury stroller and it is going to cost you a luxury price.  But for a stroller with such sturdy construction that can turn from a single to a double and back to a single again, we kinda think it's worth it!  No need to buy an entire second stroller when your baby #2 arrives!
Overall, the Baby Jogger City Select is a fabulous stroller with versatility that you can find on any other stroller.
To watch my full video review of the Baby Jogger City Select – click the video below: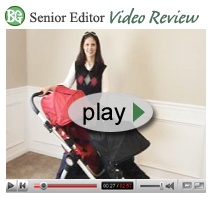 Shop Baby Jogger City Select