Baby Planet is an eco-friendly stroller company that is leading the way to improve the environment for our children. Their mission is to "protect and restore the planet in which we live."  We love this!  They partnered with the Wildlife Conservation Society to develop a line of strollers to focus attention on the plight of Endangered Species around the globe.  Currently, they offer three different Endangered Species options:  Giant Panda, Monarch Butterfly and Lemur Leaf Frog.    Plus, for every Endangered Species stroller that they sell, they make a contribution to the Wildlife Conservation Society.  Pretty cool!  We specifically reviewed the Giant Panda stroller but all the strollers in the Endangered Species line are the same except for the fabric.
First, the Giant Panda stroller is so cute!  Very unique fabric in the world of strollers!  The seat fabric features colorful, green bamboo and a well placed set of panda bears.  The seat is very wide at 14 ½" which is great for larger children.  It has an 18" seat back and a measurement of 23" from seat back to canopy.  Our 5 year old tester easily fit in the seat with room to spare and her head didn't even brush the canopy.  There is a padded, adjustable 5 point harness for your child's safety.  Even though it looks like a standard buckle, it's actually hard to do.  That makes us happy!  A hard to do buckle means that our naughty little toddlers won't be out of the stroller by themselves on a whim.
The seat has a one-handed, deep recline complete with 4 recline positions.  Because the seat doesn't recline completely flat, Baby Planet recommends it for 1 month and up.  The recline is deep and great for a nap though!  The stroller does not have a bumper bar, child tray or child cup holder but there is a great cup holder on the side of the handle for mom or dad!  There is also an adjustable footrest with 8 positions for your child's comfort.
The canopy on the Baby Planet Endangered Species stroller is fantastic!  It's a very large canopy for an umbrella stroller and it is complete with a large peek-a-boo window!  We love that the canopy has a pop-out sun visor that gives your child that much more sun protection.
The Baby Planet sports non-adjustable, ergonomic handles that are 40″ from the ground. Even though these are considered "taller" handles than some strollers, we would definitely like to see Baby Planet make the handles telescope out farther to accommodate taller parents.
In terms of storage, there is a large basket underneath the seat that will hold a large diaper bag or quite a few baby essentials. Like many umbrella strollers, the basket is hard to access with the seat fully reclined.  We were able to access it for small items from the sides but not for a big bag though.  For additional storage, there is a pocket on the back of the seat for parent essentials.
The stroller sports four sets of 7" wheels and a rear wheel suspension. The front wheels are swivel wheels that have the ability to lock straight for navigating a bit bumpier terrain and the back wheels can be locked individually to keep the stroller in place. These are large wheels for an umbrella stroller and even though it is by no means an all-terrain stroller, we were able to push the stroller through grass and playground mulch with no problems.  On smooth payment, the stroller is easy to navigate one-handed with a smaller child but you might need two hands to turn it with a larger kid aboard.
The Baby Planet has an umbrella fold that is easy to do with a couple easy steps.  It folds easily and locks closed with an automatic lock. There is even a carry handle on the side that makes transporting and traveling with this stroller a breeze. With a lightweight aluminum frame, it still weighs in at 17.5 lbs, so it isn't the lightest on the market for umbrella strollers but we had no problem transporting it. We found the weight of the frame gives it a sturdy base, so we were able to hang a reasonable diaper bag on the handles without the entire stroller flipping over like on some other brands.  Opening the stroller is just as simple as the fold. Unlock the lock, lift up the handles, and step down on the small rear footplate to open. Easy as that!
Even though it's a bit heavier than other umbrella strollers and we'd like to see the handles adjust taller, with a roomy seat, large basket, big canopy and great unique fabric, the Baby Planet Endangered Species stroller is a great option.
To watch our full video review of the Baby Planet Endangered Species stroller, click the video below: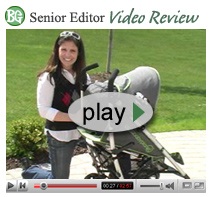 SHOP Baby Planet Endangered Species Strollers
*Thanks to Baby Planet for sending us the Endangered Species stroller to review!*