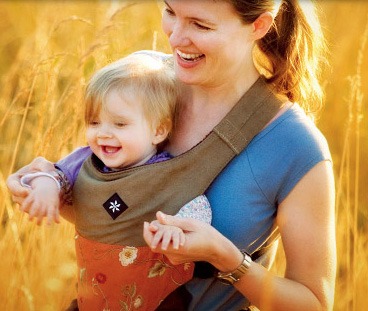 The Belle Baby Carrier is a front carrier for babies 8-30 lbs that works with baby facing front or back, and comes in 12 chic color options including 4 organic choices.
The outer portion of the Belle Baby Carrier is made of comfortable, yet strong upholstery grade microsuede fabric, and it has a breathable mesh panel. The inside liner is a 'teddy bear fur' which makes a nice cozy ride for baby. My only concern with the fuzzy lining with an infant under about four months is that in warmer months, because their body and head would be completely encompassed by it when used in conjunction with the head support, I feel like it could possibly cause overheating.  So, be careful to watch how warm baby becomes, though the mesh outer should help offset the risk of overheating. The buckles felt really secure and the waist belt rings are made from durable stainless steel. 
Though I have tried several carriers so may already be more comfortable with using them, I felt like the Belle Baby Carrier was a very easy carrier to figure out.  Ideally, I see this as the carrier I would use with my baby when they were small, as I could use it with the infant head support.  Because I started to feel the weight of my child (in my shoulders) after about a half-hour of carrying him, I probably would not use the carrier as much (for longer period of time) after about 15-20 pounds, even though the recommended weight goes all the way up to 30 pounds. For running around to the grocery store, or other errands, it would still be a great choice.
This carrier is so simply designed that I was able to hold my busy 27 pound toddler and get the carrier on easily without feeling like I was being unsafe. As he is at the high end of the weight recommendation, I can say that it was still comfortable, and there was ample space, but I could definitely tell the difference in the amount of padding on the shoulder straps between this carrier and my main carrier, the Ergo, within a matter of about 30 minutes.
Belle Baby reminds carrier users on their website that the shoulder straps do not have to be tight on the shoulders, just secure.  Keeping this in mind did help, and it also allowed me to ensure the straps could be placed further out on my shoulders, as opposed to close to my neck.  I would also like to point out that I'm a plus-sized mom, and that depending on your own size, the carrier will be more or less comfortable, which shouldn't be seen as a design flaw in the carrier.
One thing I really like is that you could carry a very new baby (as small as 8 pounds) without a bulky infant insert as the Ergo requires. The infant head support (made of the same mesh outer and fuzzy lining) was easy to Velcro on and off and is used when your small baby is facing you. Once baby is able to support their own head, you can move him to forward facing, at which point, the head support would be removed, as it's only used when the child is facing in.
The manufacturer recommends that for extended use, the wearer should carry a small blanket to be "folded up in various ways to help your baby's head stay comfortable in the carrier". This says to me that this is a great carrier to roll up and throw in the diaper bag for grocery shopping and other errands, but if you're planning a walking tour of Europe, this may not be the carrier for the job.
Priced at around $90, it's comparable to a high-end Bjorn, but I felt like the Belle Baby Carrier was much simpler to figure out as there were a lot less straps and buckles to get twisted or inserted incorrectly.  The Baby Belle Carrier is also unique because it lacks a panel/fabric between parent and baby that is great because it not only gives you direct contact with your baby but was just one less bit to get confused, and also helped to keep me cooler. It's also designed to have baby sitting in an ergonomically correct position to support their developing spine, and the waist belt allows the bulk of the weight to be placed on your hips as opposed to your shoulders. Though with extended use, it would most likely be felt in both places as your baby reached the weight limit; smaller babies would most likely not have the same impact.
The rubbery smell of the 'yoga mat pad' at the base of the steel rings was a little bit off-putting when I first took it out of the box, but it's something that faded significantly even after the first couple of uses, and the security it provides for the waist strap outweighs the smell.
I do wish the Belle Baby Carrier were able to be converted to a hip carry, but overall, it would be a good investment for when your baby is small but it can still be used at the upper weight limits for short-term use.  I think this carrier is great especially if you're planning to have more than one child or to re-sell it at the end of your usage period, as it doesn't seem like there are parts that would have significant wear. It also has the two magic words in the instructions; machine washable!
Reviewed by Sara