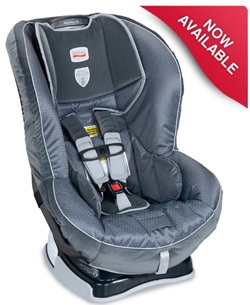 Just when I thought Britax seats couldn't get any better, they announce a full redesign and re-launch of its line of best-selling convertible car seats.  According to Ron Marsilio, vice president of engineering and new product development for Britax, "We are on a never-ending mission to engineer car seats to be as safe as they can possibly be, especially when it comes to protecting the head. That's why we designed Britax Revolutionary Head Safety Technology to minimize head excursion and help protect the child from injury."
Britax doesn't just sit back and say "yeah…I'm good!" – they say "we can be better!"  What's not to love about their dedication to car seat safety!? 
The new line offers Superior 360 Degree Protection with Revolutionary Head Safety Technology that dramatically reduces the risk of head injury and provides complete protection from all sides in the event of a vehicle crash. This new generation of car seats were designed to reduce "head excursion" – which is the distance the head travels forward during a crash.  Plus, Britax designed its new line to make it even easier for parents and caregivers to use their children's car seats correctly each and every time.  This is important because even the safest seat in the world will most likely fail if it isn't installed correctly. In doubt of your ability to install the seat correctly?  Please take it to a CPS Technician in your area.  
Let's take a look at the new Britax Revolutionary Head Safety Technology.  We'll try and break it down in a non-complicated way why these new next generation seats are even safer for your little passenger.  The Britax Revolutionary Head Safety Technology incorporates features that lower the child's center of gravity, strengthen the child seat and manage crash energy. Together, they reduce head excursion and offer the most advanced protection to children.
The re-engineered lower center of gravity allows the child to sit lower and creates stability in the event of a crash.  That makes sense!  Lower to the base is just more stable!  There are integrated steel bars that strengthen the connection to the vehicle and reduce forward flexing of the child seat during a crash. Steel bars good!!  And don't forget the Patent-pending Britax SafeCell™ Technology with SafeCells that are designed to compress in a crash. These SafeCells look like two large honeycombs underneath the seat in the base and when compressed in a crash significantly lowers the center of gravity and counteracts the forward rotation of the child seat, which normally propels the child toward the front seat.  And that's not all!  These new convertible seats all feature the Energy-Absorbing Versa-Tether® with a two-point attachment and staged-release tether webbing to anchor the top of the car seat. This minimizes forward-rotation and reduces crash forces reaching the child.  It is very important to always have your tether secured to your vehicle.  This isn't an optional feature – it's a required safety feature that parents and caregivers must do with every convertible car seat in our book!
All the new convertible seats in this next generation of Britax Convertible seats have the new Britax Revolutionary Head Safety Technology. We reviewed specifically the Marathon 70, and while the different seats all share many of the same features, we are going to talk specifically about the Marathon 70 from here on out! 
The Marathon 70 has the great Side Impact Protection that is basically deep side walls lined with energy-absorbing EPP foam to distribute crash forces, shield from vehicle intrusion (in a side impact crash!) and contain the head, neck and body.  Plus, it makes for a nice comfy place for your child to lay their head if they get a little sleepy during the ride.  
One of our favorite convenience features for mom/dad is the Quick-Adjust Harness to reposition the harness shoulder height without disassembling the harness straps.  That's right no more re-threading the harness if you need to adjust the height!  You can even do it with the seat installed.  All you have to do is squeeze the top lever on the head pad and pull the head pad up or push it down to adjust the harness height.  This is a fabulous feature for when a different child needs to sit in the seat and the harness needs to be adjusted for the new, temporary rider.  That way, we get a perfect fit for each child, every time! 
Another great feature is the increased weight capacity to 70 lbs!  You can use this seat from 5-70 lbs!  It could be your one and only seat from birth to 7 years old!  The seat has a 7 year life span so if you don't buy it for use with your newborn, you could even use it for children up to 8 years old+ (under 70 lbs). 
There are two crotch buckle positions for growing child, an infant positioning insert for small infants, and a plush, easy-remove cover for cleaning.  I know you are saying, "easy to remove cover, yeah right!"  No, we really mean easy-to-remove-cover!  So easy, in fact, that you can remove it for cleaning without disassembling or uninstalling the seat!  That easy!!! 
The Marathon 70 base also has anti-slip, contoured base grips that protect the vehicle seat.  So, no need to feel like you have to use those vehicle car seat protector mats (that are NOT recommended by Child Passenger Safety Technicians!) to protect your seats from those horrible dents that convertible car seats usually cause.  Our car-loving husbands LOVE this feature! 
Other notable features are:  rear and forward facing recline, the fabulous Premium Lower LATCH Connectors with a push button easy release, Built-in Lock-Offs for use with seat belt installation, and convenient Harness Holders keep harness straps out of the way when placing your child in the car seat.
The Marathon 70 comes in 7 fashions:  Allison, Blueprint, Cowmooflage, Crimson, Jet Set (BabiesRus only), Onyx and Waverly.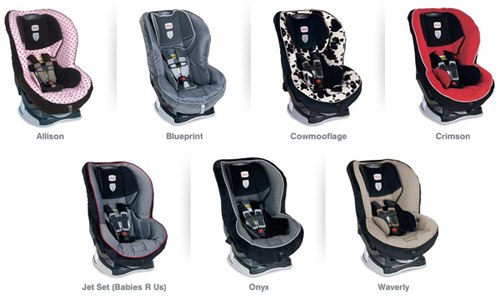 We can't say enough good things about the new Britax Next Generation Convertible Car Seats!  They are safer and even easy to use for parents!  Did we mention we LOVE the Quick-Adjust Harness and easy to remove cover?  A company with people who's motto is that they are on a never-ending mission to provide the safest car seats available are our heroes!
Check out Britax's video that helps explain the Revolutionary Head Safety Technology on the new Next Generation Convertible Car Seats:
Thanks to Britax for sending us the Marathon 70 for us to review!
Disclosure:  I am a member of the Britax Blogger Advisory Board.  The Britax Blogger Advisory Board consists of select bloggers who routinely test and review juvenile products.  Britax gives these board members previews of its new products or product ideas, in return for the bloggers' candid assessments.  All my comments and opinions are my own.