Unlike analog baby monitors that operate on a frequency similar to a radio, the First Years True Choice P400 uses Digital technology to scramble the signal as it travels between monitor and receiver. What this means to us moms: crystal clear reception without interference or static. The digital technology pretty much eliminates accidentally hearing your neighbors or annoying static, making the sound fantastic on this model.
The True Choice P400 comes with one nursery monitor and two parent handset units so that each parent can have one at all times. The parent handsets are compact and fit perfectly in your hand; it is about the size of a small cell phone.  It even has a belt clip for easy carrying. It has sound-light indicators to visually show if there is sound, a low battery light and an out-of-range indicator as well. Best of all, the parent units run on an included rechargeable battery system so rather than paying for a hundred batteries, you can just plug it in with an AC adapter to recharge it. The parent units also feature a headphone jack (great for when dad is mowing the lawn!) and a volume control.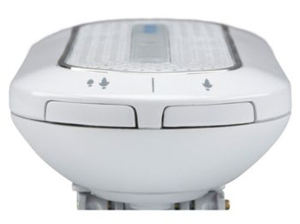 The nursery unit is also compact (a little larger than an iPhone) and like most, plugs in with an AC adapter, but can also run on regular batteries (the Duracell kind), an unusual feature for baby monitors that we love since, babies don't always fall asleep right next to an outlet.  The nursery unit also features a parent-unit finder if you have misplaced a parent unit that is still turned on, a wall mount option, and a convenient soft glow nightlight, which turns on with the wave of your hand.   
A unique feature of the P400 that we absolutely love is the 3-way communication.  This feature allows you to speak into the monitor to soothe your baby on the nursery unit or talk to your spouse on the other parent unit.  One button on the parent unit transmits your voice to both the nursery unit and the other parent unit at the same time.  Another button on the parent unit transmits your voice only to the other parent unit so it doesn't disturb the baby.  This option allows you to use the parent units like walkie-talkies.
There are no multiple channels on the P400 like you would find on other monitors to "find the clearest signal".  We didn't really see a need for other channels because we always got a perfect signal no matter where we were in the house.  No static.  No interference.  Just the glorious sound of silence (or our baby!).  Plus, the range on the P400 is really good.  They advertise a range of 1500 feet.  What that means is that we were able to get to our neighbors 3 houses down before the parent unit began to beep to tell us we were out of range.  (Not that we go that far from baby – it was for testing purposes only.)
The only thing really missing on the monitor is a vibrating feature on the parent unit to alert you of baby sounds when you're in a noisy place. Otherwise, this monitor is great with its compact units, crystal clear reception and fabulous 3-way communication feature. 
SHOP The First Years True Choice Premium Digital Monitor with 2 Parent Units