iCandy is a luxury stroller company that recently brought their gorgeous strollers across the pond to the US.  Even though iCandy is new to us, they are not new to the rest of the world!   iCandy is a British company that was started in the early 1930s with the goal of making products that was specifically designed for the parent who needs something special, something different, something that catches the eye.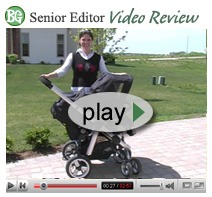 With a fun line of four unique stroller systems that are all named after fruit (Cherry, Apple, Pear & Peach), the iCandy strollers are sure to turn some heads here in the states as they start to stroll the streets. 
The Pear is iCandy's full-size, double, multi-functional luxury stroller.  It gives parents the ability to mix and match seats, bassinets and car seats to make the stroller perfect for them.  It even has the ability to turn into a single stroller when a double just isn't what you need. 
Let's start with the seats on the Pear!  There is an upper seat (larger seat) and a lower seat (smaller seat).  The upper seat is for your larger child and is 14" wide but has a shorter seatback at 17 1/2" and a measurement of 23" from seatback to canopy.  Our 5 year old tester at 42" fit in the seat but her head did brush against the canopy.  (Remember even though 5 year olds generally don't ride in strollers, we use her to show the seat with a child near the weight capacity.)  It's important to note that iCandy recommends the seat for children up to 3 years old.  The upper seat has a weight capacity of 55 lbs but we think your child will probably be too tall for the seat before they ever approach that weight.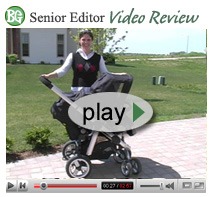 The lower seat is for your smaller child and is quite a small seat!  One of the smallest stroller seats we've encountered!  Definitely not great for your big, healthy, American child!  It is 12" wide, which isn't bad, but has a short 17" seatback and only a 21" seat back to canopy measurement.  Even our 3 year old tester at 38" was a bit tall for the seat as his head brushed against the canopy.  Our 5 year old tester didn't even fit in the seat!  So, this lower seat is definitely for your younger child or your smaller twin.  The lower seat has a weight capacity of 45 lbs but we think a child approaching 35 lbs will start to outgrow the seat. 
Each seat has a padded 5-point, adjustable harness for safety and we love that the belly pad that protects the child from the buckle is sewn to the seat fabric so that it doesn't fall off every time we take our child out.  Fantastic!  The seat also sports an adjustable footrest with 7 positions and a swing-away and removable baby bumper bar. 
Instead of just the back of the seats reclining like on other strollers, the entire seats on the Pear reclines back into 3 positions.  It is a two-handed recline that is done by pressing two large buttons on the outside of the seat with your fingers.  Since the seats are close to together, which is great for keeping a short footprint on the stroller, you will have to recline the seats in a specific order to get them both to recline.  And with a large child in the lower seat, you will not be able to recline both seats and keep your lower child comfortable because there won't be enough room for their legs.  With babies and smaller children aboard, we had no problems reclining both seats. 
The seat keeps its wide "v" shape but does recline far enough back for us to consider it a flatter position.  Even though we would put a newborn in the seat for short periods of time, because the seat isn't completely flat, iCandy recommends using the seat for 6 months and up.  They recommend using the car seat adapters or the bassinets (both sold separately) with a newborn.  Plus, like many luxury strollers, the Pear has reversible seats so that both your children can face you or out at the world.  Both seats have to face the same direction though so there is no possibility of back to back or facing each other. 
The canopies on the seats are decent but we'd like to see an additional pop-out sun visor added for complete sun protection. The canopies also sport a large peek-a-boo window. 
The Pear sports an adjustable handlebar that is one of the tallest handles on a stroller that we've encountered.  It goes from 37" all the way to 45" from ground to handlebar.  This makes the Pear a fabulous choice for the tallest of parents!  The handlebar is one continuous piece (instead of two handles) that makes for easier one-handed maneuverability since you can place one hand in the center of the handlebar for turning. 
In terms of storage, there is a large basket underneath the seat that will hold a large diaper bag or quite a few baby essentials.  If you have a larger child in the lower seat, his legs will dangle into the basket so you may not be able to fit as much in the basket as you think.  The basket can also be hard to access while using two toddler seats.  We were able to access it from the side but only for small items and not a large diaper bag.   For additional storage, there is a small, flat pocket on the back of each seat for small parent essentials such as a set of keys or a cell phone.  
The Pear sports double 7 1/2" front wheels and 11" air-filled rear wheels.  The front wheels are swivel wheels that have the ability to lock straight for navigating bumpier terrain.  While it is technically not an "all-terrain" stroller, we were able to push the stroller through grass and playground mulch with a bit of muscle.  Plus, the all-wheel suspension is great for giving your little passengers a smooth ride.  This is a heavy-duty, full size stroller that is great for strolling.  Because it weighs in at a whopping 44 lbs, this isn't one of those zip around corners quickly and easily strollers.  It's more of a strolling stroller!  On smooth payment, the stroller is rather easy to navigate even with larger children aboard but it is definitely a two-handed stroller. 
The fold on the Pear is easy to do but it can be a bit time consuming if you are in a hurry.  Both seats and the pip converter have to be removed from the chassis before folding.  So, this isn't a great double stroller for public transportation if you need to fold it often or if you have to drag a stroller up stairs in a NY apartment.   It has a manual locking strap on the side but we'd like to see an automatic lock added for mom's convenience.  We love that the Pear chassis also has a standing fold but remember the seats and the pip converter will be separated from the chassis at that point.   
With the heavy weight of the Pear comes stability.  The Pear is a very sturdy, well-constructed stroller.  It is heavy duty and we definitely feel confident in its ability to transport our most precious cargo.
Let's say your older child no longer needs a ride, the Pear has the ability to turn into the single Apple stroller.  You can attach the upper seat directly to the chassis in the rear facing position (child looking at mom!).  That is the only position that the upper seat will attach to the chassis but you can buy the Apple toddler seat separately that will allow you to have the toddler seat face out or at mom.  So, this stroller can be a single or a double!  Love that! 
To accommodate one or two newborns, the Pear turns into a travel system with the sold separately car seat adapters for the Maxi Cosi or the Graco Snugride.  There are also Pear carrycots that are sold separately to turn the Pear chassis into a rolling bed or pram for your newborn.  You can use one or two carrycots at a time.  You can even mix and match your toddler seats, infant car seats or carrycots to give you true versatility.  The bassinet are the most ideal way to transport your newborn since it keeps them in a completely flat position which is ideal for breathing and development.  Other great accessories sold separately are a cup holder, foot muff, flavour packs, parasol and the travel bag.   
A fun accessory that is sold separately is the Flavour Pack.  The Flavour Packs include a fleece liner for the seat and a matching canopy and is available in 5 different flavors:  blackcurrant (black), redcurrant (red), grape (purple), imperial (turquoise) and mandarin (orange). 
The iCandy Pear is a double luxury stroller that is going to cost you a luxury price.  It's not cheap but with all the fabulous features, versatility and the solid, sturdy construction, it's going to last you for years to come.  It even has the ability to turn into a single when a double isn't needed!  If you are looking for a new head turning double stroller that hasn't already overpopulated the streets, the iCandy Pear is a fabulous choice.  
Don't forget to watch our full video review of the iCandy Pear, by clicking the video graphic above.