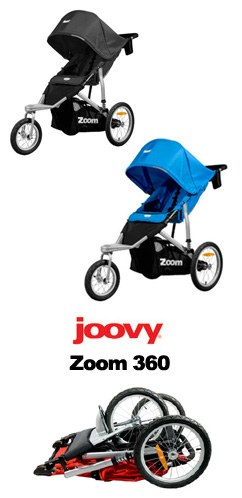 The Zoom 360 is Joovy's sport stroller great for all-terrain and sport (jogging) use. This sporty stroller is great for busy parents who want one stroller that they can use on rougher terrain and for jogging but still has the maneuverability to use in everyday activities such as shopping. True jogging strollers with permanently fixed front wheels are great for jogging/running but can be a pain to use all the time because of the lack of maneuverability. That is where the Joovy Zoom 360 comes in.  It gives you the option of having a locked front wheel for sport use but can easily be switched to swivel mode for times where maneuverability is key.
The seat in the Zoom 360 is a wide but short seat. With a 15" seat across, our chubbier kids have no problem being comfortable in the seat.  The stroller does have a short 18" seat back and a very short seat back to canopy measurement of only 22″ which can pose a problem for the taller children.  Even though the stroller has a high weight capacity of 75 lbs, it's important to note that with a short seat to canopy measurement, your taller children may not fit comfortably under the canopy.  Our 4 year old tester at 38" and 37 lbs fit under the canopy but his head was against the canopy so there won't be a lot of room for him to grow under there.  There is a great 5-point harness (with reflective stitching) for your child's safety that features a buckle that is easy for parents but can be tricky to undo for your naughty toddlers.
The Zoom 360 features a reclining seat that works with a one-handed strap system.  It doesn't recline flat (only reclines half-way back) so this stroller is not for use with a baby under 6 months.  When the seat is fully reclined, there is a large mesh window to allow air to circulate through.  This is great in the summer to keep your little one cool.  Our only concern is that there is no cover for the mesh in case it is cold or windy.  So, if the seat is reclined the back of the seat is always open with that mesh window.  We wish that Joovy would add a fabric cover to close back of the seat when we would like to keep our babies warmer. 
The stroller sports a non-adjustable handle bar that is 40" from ground to handle.  We found that there is plenty of room for a long jogging stride even for our taller parents. 
It has a gigantic sun canopy with peek-a-boo window (with cover) that will definitely shade your child. A medium size basket underneath the seat will hold a diaper bag or other baby essentials. We love that the stroller comes with a neoprene parent organizer that features two cup/bottle holders and a small zippered compartment. 
The Zoom 360 sports a 12″ front tire and two large rear 16″ tires. All three tires are air-filled which is appropriate for a sport stroller, giving parents an easy push and little passengers a smooth ride. It was as if Joovy was reading our diary because they included a tire pump that secures inside the basket.  You know us – we want the tire pump included!  Thanks, Joovy! 
The front wheel swivels 360 degree for easy agility (hence the name!) as well as has the ability to lock for added safety and control while jogging. Maneuverability on this stroller is fabulous. With the large rear tires, it moves as if it's super lightweight and turns easily with just one hand. The stroller glides along effortlessly on payment and if the front wheel is locked, it tackles all-terrain like a champ and jogging is no problem. Put the safety strap around your wrist and the stroller will glide along without any effort. We are glad that they attached the safety strap to the bottom of the stroller frame. This is safer because if mom or dad happens to trip or fall, the stroller won't tip backwards. The suspension system is fabulous to absorb some of those bumps on the trails as well. 
The Zoom 360 has an easy fold that is complete with an automatic lock. While the fold isn't all that huge, for a more compact storage it features quick release rear wheels.  The stroller weighs in at 27 lbs which is a bit heavy but we expect that from a sport stroller with a sturdy frame which is made out of an aircraft grade aluminum. 
Joovy knows we don't always run or stroll on sunny days, so they included a rain cover with the stroller to keep the stroller (and the rider!) dry. Plus, there is also reflective fabric on the stroller for those early morning or evening strolls/jogs.
The Joovy Zoom 360 stroller retails for about $269 but we have seen it on sale more than once. While we aren't crazy about the short seat to canopy measurement, we really like the huge canopy, fabulous tires, included tire pump and easy fold. 
SHOP Joovy Zoom 360 Stroller here
To watch our full review of the Joovy Zoom 360, click on the video below:
*Thanks to Joovy for sending us the Zoom 360 to review!