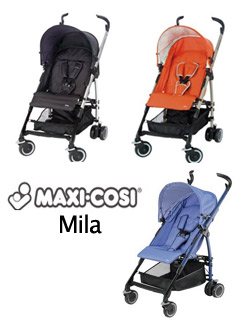 The Mila is one of Maxi Cosi's newest additions!  It is a lightweight-plus stroller that has a wonderful compact, umbrella fold.  With its large seat, large basket and ability to become a travel system with a Maxi Cosi infant car seat, the Mila is great for travel. 
The seat on the Mila is roomy and provides plenty of space for a baby or toddler.  The seat is 14" wide with a seat back of 20 inches and a 23 inch clearance from the seat bottom to the canopy to allow enough room even for our older and taller toddlers. Our 4 year old (40 lb – 40") tester fit comfortably without his head touching the canopy. There is a 5-point, adjustable, padded harness for safety that features a buckle that is hard for toddler to do but easy for parents. The seat sports an adjustable foot rest with two positions and a strap reclining backrest. The seat only reclines halfway back so the seat is only recommended for babies 6+ months.  While the strap recline isn't hard to do, we'd prefer to see an easy one-handed lever recline. 
Like many lightweight strollers, the Mila does not have a bumper bar, snack tray or cup holder for baby. Maxi Cosi does offer a bumper bar sold separately though.  There is a large cup holder on the side for parents that can be switched from side to side. 
The Mila has two non-adjustable taller handles that measure 40" from the ground to handlebar.  While it is fine for the average height parent, if you are super tall, you may want to try the handle height out first.
The sun canopy on the stroller isn't the biggest.  A canopy extension would definitely be needed for full-coverage.  There is no peek-a-boo window on the canopy but there is a back pocket for extra storage of small items.  Plus, the Mila comes with a full-coverage rain cover to keep your little rider and the stroller drive.
The basket is quite large for a lightweight stroller and will hold a medium to large sized diaper bag, a couple shopping bags or other baby essentials. The basket is tricky to access from the back of the stroller but don't worry because it can easily be accessed from the sides.
The wheels are standard umbrella stroller wheels at 5 inches.  It won't handle all terrains, but we've successfully navigated gravel, grass and dirt with the front wheels locked straight and a little effort. The lightweight frame gives a great ride and is easy to push and maneuver on smooth surfaces. The front wheels swivel (with the ability to lock straight) and there is a one-touch brake on the rear wheels.
The stroller weighs in at 18 lbs which is heavier than many other umbrella strollers.  You will get extra stability with this stroller with the extra weight which is great for when you use it as a travel system.  The Mila comes with car seat adapters that when paired with a Maxi Cosi infant car seat, you have yourself a travel system. 
Our favorite feature of the Mila is the compact fold that is great for traveling. You can fold up the stroller with just two easy steps but it does require two hands though. The stroller folds into a compact, umbrella standing fold that automatically locks and really does stay upright!
Retailing for $249, the Mila is a great umbrella-fold stroller to take on-the-go.  While we'd like to see a bigger canopy, deeper seat recline and adjustable handles, with its roomy seat, fantastic standing fold, big basket and ability to accept an infant car seat, this is lightweight stroller to consider.
To watch our full video review of the Maxi Cosi Mila, click the video below: