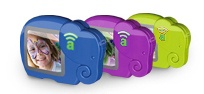 My Child ID is a device that was developed by AmberAlert.com that every parent needs but hopefully never really has to use.  It is a comprehensive digital identification device that stores critical data about your child in case (heaven forbid!) your child goes missing. My Child ID helps parents securely organize, manage and store children's information for quick and easy access.
"According to the Department of Justice (DOJ), the first three hours a child is missing are the most critical for their safe return.  Understandably, the parents can become hysterical in an emergency situation, hindering the ability of law enforcement to obtain crucial information for hours," said Harlan Lyons, CEO of AmberAlert.com.  "My Child ID is a proactive tool for parents, law enforcement and emergency responders to safeguard children by helping to reduce the time it takes to gather accurate information when time is critical."
My Child ID stores vital information including:
Digital Photos – viewed on the LCD digital photo display on the device itself.
Vital statistics – height, weight, eye and hair color, blood type, etc.
Emergency contact information
Medical information – medication, allergies, physicians, pharmacies, etc.
Contact information for family, friends, teachers, baby-sitters, etc.
Multi-language options:  English or Spanish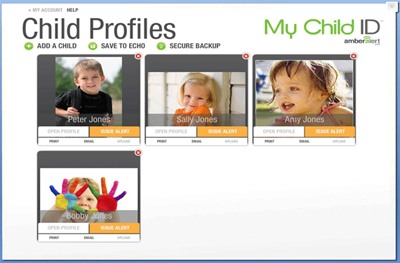 The device is in the shape of an elephant (an elephant never forgets!) and fits into the palm of your hand.  It's only 3 inches by 2 inches.  It also has a small ring built into it so that you can put it on your key ring.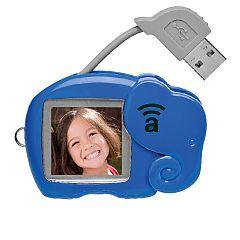 Here is how it works:  The My Child ID device features proprietary information management software to create unlimited profiles up to 128MB.  So, even Jon & Kate can have a profile for each of their eight.  All you have to do is plug in the USB cable that is connected to the elephant device to your computer. My Child ID is the only child identification device that is compatible with Microsoft, Mac and Linux operating systems.  Once the device is connected to your computer, you can easily install the software using just the device and your internet.  No need for any software CDs.  We found the software install is easy and the on screen prompts to fill in the profiles and upload the pictures is very user friendly.
Worried about putting so much information about your child on one device?  So were we!  But we found that the My Child ID is very secure.  The device is password protected and encrypted.  The software My Child ID was designed using SHA 1, an encryption format designed by the National Security Agency (NSA).
The actual device only displays the photos on the digital screen and no other information.  The information that you used in the profiles can only be accessed when plugging the device into a computer and entering in your username and password.  Note:  You must have the device to access the information.  While information is backed-up online, like we said it is encrypted and can only be accessed by using the My Child ID device and password.  As an extra safety precaution, 10 failed attempts to login will result in complete deletion of the data.  However, after registering your device online, you will have the ability to retrieve your password in the event that you forget it.
My Child ID is a fabulous device that provides parents with the peace of mind that their child's critical information is accessible and secure in case of an emergency.  Making accurate information readily accessible for rapid response is also a great and vital tool for law enforcement and emergency responders.
My Child ID retails for $39.95 and is sold for a limited time at select stores such as Dominicks, Vons, Safeway, Randall's, & Genuardi's as well as on AmberAlert.com.  We think My Child ID is a must-have for all parents.  You hopefully will never have to actually use it but if for some reason you do, you will be thankful that you have it!  My Child ID also makes a great gift for the holidays for your loved ones!