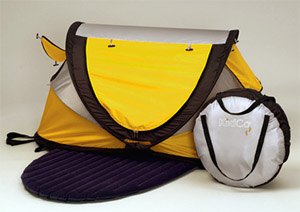 KidCo was incorporated in 1992 as a manufacturer of child, pet and hearth safety gates. Since then, they have expanded their line to encompass a wide variety of child home safety products, natural feeding products, bed rails and travel products.
The KidCo PeaPod is their original travel bed, but since it only is rated for use from birth up to one year old, I opted to get the PeaPod Plus (which is rated for use from birth up to six years old). I had been searching for an alternative to bring my portable play yard since my child didn't like sleeping in it whenever we were away on an overnight trip (staying at a relative's house; I should mention that many hotels have cribs you can use) and it seemed like a lower-cost alternative to other travel cribs. 
Upon opening the box, the PeaPod Plus is packaged in its carry bag, which is a pretty small, lightweight package (Stored dimensions: 19″L x 19″H x 6.5″W, 6.75lbs), considering the size that it pops out to. Be careful when removing the elastic band that holds the PeaPod Plus in its compact form. As soon as I did, it popped out, almost hitting my child who had crawled over to me wondering what I was doing. The unfolded size is pretty substantial at 52.5″L x 34″W x 25″H. I had a 4 year-old and a 9 year-old at the house when I first opened it and the 4 year-old fit comfortably sitting up in it while the 9 year-old fit laying down (to give you a perspective on how big it is, the PeaPod Plus is almost as long as the width of a full-size bed!) 
The PeaPod Plus resembles a child-sized tent with a blow-up mattress. The mattress is about an inch or so thick. One major aspect I didn't like was that the version I purchased (in Quicksilver) does not come with a manual pump. Priced around $90-$100, I would have liked to see ALL versions come with a pump, especially since the versions that do have a pump are priced the same as the ones without a pump! You will not be able to blow the mattress up without one (well, unless you really want to sit there for an hour or so…). The mattress has a vinyl bottom and a suede-like top. A standard crib mattress sheet will fit around the mattress. The PeaPod Plus has a zipper at the base to easily slide the mattress in and out of a base pocket. The mattress fits quite snugly in the PeaPod Plus pocket.  I found it to be noisy with the mattress in the pocket (nylon on smooth surface sound) so I put our mattress inside the tent with a crib sheet over it. Deflating the mattress is a little tough as air will slowly escape from the air hole. You have to pinch the air hole a little and squeeze the air out.
The PeaPod Plus has mesh ventilation windows on all four sides with a cover on each of them that you can roll back and secure, which is a nice feature if you're outdoors to let wind flow through. It also has UV protection, another great feature for the outdoors. The front access mesh panel has double zippers on the mesh screen, one set for the inside, one for the outside, which is nice, except curious infants will immediately go for these. There is another set of zippers to zip another panel over the mesh panel.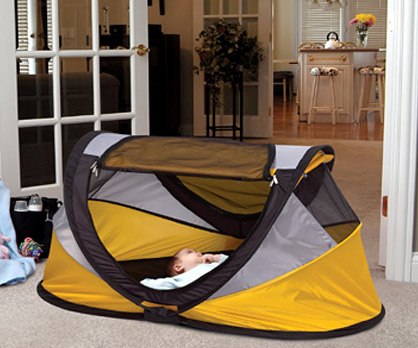 Now let's talk about the reason why I bought this in the first place, for sleeping! My 10 month old son is NOT able to sleep in the PeaPod Plus unless I put him in it already asleep. My child is able to put himself to sleep, but he rolls around EVERYWHERE in his crib before he finally nods off. He tried rolling around in it, but immediately he ran into the wall of the PeaPod Plus and it started lifting off the ground. If I hadn't been around to see how he would do in it (since the mesh panels have that extra panel that goes down, he couldn't see me), he would have rolled the entire PeaPod Plus over and would have been sitting/lying in the ceiling. So, it's not the best fit for me, sleeping-wise. When babies are newborns, they're less likely to roll around over to the side, yet aren't as capable of rolling away from the side should their head get pressed against it. On the other hand, my child can roll away from the side, but I don't feel comfortable putting him in there unsupervised because his weight can possibly roll the tent over.  I recommend it for use as a supervised sleeping area until about 1.5-2 years old and from 2 years on up unsupervised. 
However, even though I can't use it for how I wanted to use it, it is a GREAT enclosed area if you're outdoors (especially with the UV protection). My child can sit up in it with plenty of room and it provides a wide space for playing. Again, be sure to use this under supervision in case your child pushes/rolls against the side as it probably will lift the PeaPod Plus off the ground. It does have loops at the bottom so you could stake it into the ground for added stability but unfortunately there were no stakes included in the purchase.  
Folding the PeaPod Plus is easy (and if you're unsure, the KidCo website has a visual aid on how to fold it). Make sure all the flaps are down on the PeaPod Plus, then gather both ends together (not widthwise, but lengthwise) until it forms a taco shape. Using one hand to hold the 'taco' together, your other hand folds one end towards the other end and until you can tuck it into the other end. Then secure the bundle with the elastic band, insert it in the case and you're ready to go!
The PeaPod Plus is a good alternative for a sleeping area or outside play area, but it is not ideal for babies who roll around to fall asleep. I love the ease of set up and breakdown (with the exception of the mattress) and know I'll be able to use it for years to come (and maybe eventually for sleeping?)! 
Shop KidCo PeaPod Plus
– Contributed by Ann