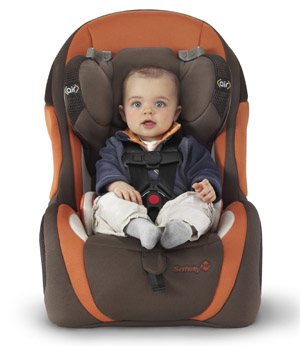 Dorel Juvenile Group has designed the Safety 1st Complete Air Convertible Car Seat to defend against the biggest threat to children on the road today; side impact collisions. Accounting for one in three child fatalities in the car (nearly all of which are caused by head trauma), side impact collisions are the deadliest type of collision for children.  We can't tell you firsthand how the car seat performs in a collision, but we can tell you this seat is stocked with innovative safety features.
Dorel Juvenile Group (DJG) collaborated with Kettering University's renowned Crash Safety Center to develop a new standard for side impact testing that was used in developing this car seat.  They tested the seat with an intruding door technique, which they say best replicates an actual side impact crash.
According to Safety 1st:
"Safety 1st engineers designed Air Protect using next generation testing methods that simulate the most violent types of side impact crashes, those with vehicle intrusion. Using this advanced methodology, Air Protect™ was engineered to defend your child in two vital ways. During a crash, the system immediately shields your child's head from the impact. In a second layer of defense, Air Protect™ allows air to escape from the headrest: channeling crash energy away from your child, creating more ride down time. It is this double layer of protection that makes Air Protect™ technology unique."
This new revolutionary side impact technology comes in the form of two large head restraint wings on the car seat containing air filled cushions.  In a side impact collision, as the child's head hits the Air Protect cushions, it pushes the air and energy out and away from your child's head.  When compressed, the air released is restricted by the size of the holes, allowing it to increase the ride down time of the child's head before it reaches the plastic shell or an intruding part of the vehicle. On impact, the Air Protect immediately diverts crash forces and side impact intrusion by releasing a precise amount of air.
Some parents may be concerned that the large head wings may block a child's view like large horse blinders, but our toddler testers never complained.  If any child would complain, it would be our toddlers!  We think they actually preferred the large head wings because it gave them something to lay their head against when they got sleepy.
The Complete Air is categorized as a convertible car seat since it can be used both rear and forward facing.  One of the standout features of the seat besides the side impact technology is the 40 lb rear-facing weight limit.  This is the highest rear facing weight limit available on the market.  We love this high weight limit especially since pediatricians are recommending that you keep your child rear facing as long as possible.  This seat allows us to keep even our preschoolers rear facing!  Our pediatricians would be proud!  The Complete Air can be used rear facing from 5 to 40 lbs and 19-40 inches.  Front facing, the seat limits are 22-50 lbs and 34-45 inches.
We love that you don't have to uninstall the seat to adjust the harness height as your child grows.  There are two levers on the top of the head wings that allow you to easily slide the head wings and the harness up and down to get a perfect fit for your growing child.  The crotch strap has three positions and we found that the harness buckle takes a bit of force to unbuckle.  Some parents may want an easier buckle but if you have a naughty toddler that thinks it is funny to unbuckle his belts, you will appreciate that this one takes a bit of force.  For this reason, we personally love that this buckle takes a bit of effort!  Also, an addition of harness pads for comfort and a belly pad to protect kids from the buckles would be our suggestion.
There is a harness adjuster (tightens and loosens) in the front of the seat that is easy to do with the seat forward facing but can be tricky to fully tighten rear facing.  We had no problem installing this seat with both the push button LATCH and seatbelt forward facing in a variety of cars. Rear facing can be more of a challenge though.  Depending on your vehicle's seat, you will probably have to use a rolled towel or noodle to get the correct angle for rear-facing otherwise it will be too upright, which is the case with many rear facing seats. Since car seat safety is at the top of our priority list and we cringe to think of how many car seats are installed incorrectly, we always recommend that you read the manual entirely before attempting to install it. Also, if you have any doubt in your ability to install the seat 100% correctly, we encourage you to take your vehicle to a car seat check which certified CPS techs can install it correctly.
We found that the car seat cover can be removed for hand washing though you have to remove the harness system to do it.  To clean the cover, the manual says to hand wash in warm sudsy water, rinse clean and air dry. Note:  The headrest pad (where the side impact technology is located) is not removable and can only be spot cleaned.
The Complete Air features a cup holder that our older testers really liked.  The last notable feature we appreciate with the Complete Air is that it is lightweight.  We found that this car seat is much lighter than some of its competitors  (like Britax and Evenflo) making it great to travel with.
The Complete Air currently comes in two colors:  Harvest (brown and orange) and McKenna (grey and black) and retails for $249.  All in all, we love the Safety 1st Complete Air for its attention to safety, innovative side impact technology, harness and head rest adjuster and light weight.
SHOP Safety 1st Complete Air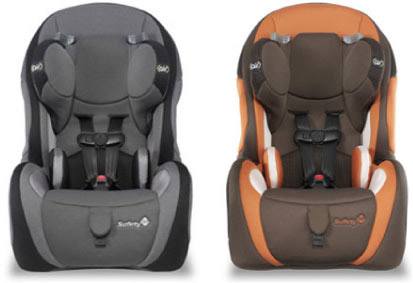 If you would like to watch more about the safety features of the Complete Air click on the video below: